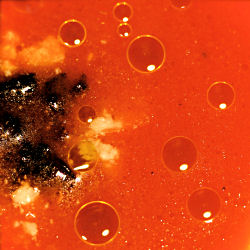 It's been a gazpacho-filled summer for us. In addition to the traditional Spanish soup's regular appearances on our warm-weather menus, we kicked off tomato season with Cookie's gloriously deconstructed version, and were lucky enough to sample Sean's gorgeous white Andalucian gazpacho, too.
Now, I love me a straight-ahead gazpacho as much as the next tomato fanatic — that magical combination of cucumber, pepper, tomato, and vinegar is nearly unbeatable when it's too hot to cook. But with two show-stopping variations fresh in my mind, I craved something equally appealing for Tami's second Super Soup Challenge.
Rummaging through my library copy of Mitchell Davis's Kitchen Sense, I spied a likely candidate. Much like the watermelon salad we brought to DPaul's party last month, this fruit-based gazpacho is actually a savory appetizer, not a dessert. But it's still easy as pie.
After rough-chopping all the veggies — all of which are in season and readily available from local farmers markets — you simply whiz them all together with a few simple seasonings, strain out any remaining bits, and chill for an hour in the fridge. At serving time, a pair of salty garnishes teams up with your best olive oil to add a touch of contrast. Drizzling the olive oil off the edge of a spoon gives the sparkle of beautiful small droplets.
Watermelon Gazpacho
- adapted from Kitchen Sense
1 6-pound 'icebox' watermelon, red-fleshed
2 Kirby cucumbers or 1 hothouse cucumber, peeled (seeded, if necessary) and chopped
1 fresno chile or other medium-hot red chile, chopped
1/4 large red pepper, cored, seeded, and chopped
1/2 medium red onion, chopped
2/3 cup tomato juice
1/4 extra-virgin olive oil
1/4 cup sherry vinegar
1/2 tsp kosher salt
fresh-ground black pepper
—–
2 oz feta cheese, crumbled
3 T finely chopped Kalamata olives
your best olive oil, for drizzling
Remove the rind from the watermelon. Cut the flesh into chunks and remove the seeds, if necessary; you should have about 6 cups of melon. Using a stick blender, traditional blender, or food processor, blend all soup ingredients (except the garnishes) until well liquified — about 1 to 2 minutes. Strain the puree through a large-mesh strainer to remove any lingering seeds or other bits, pushing the pulp through with a spatula. Adjust seasonings as needed, and chill for at least an hour. Serve garnished with the feta and olives, and a drizzle of olive oil.
Serves 6 as an appetizer