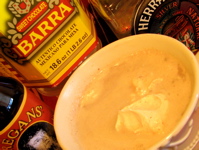 This month's Mixology Monday, hosted by the folks over at Imbibe Unfiltered, features Winter Warmers — a happy thing for those of us who happen to be living in unheated basements. Now, I realize that "warmers" refers to these drinks' effect on the drinker's internal comfort, rather than the temperature at which they're served. But with the weather in Fog City threatening to dip into the 20s overnight, a double-dose of warmth seems wise.
I was looking for something that packed the twin punch of alcohol and heat, along the lines of an Irish Coffee. But unlike my better half, I am not much of a coffee drinker. I love the taste, but I can't do caffeine… especially once the sun goes down. Mexican chocolate is one of my favorite warm drinks, so it seemed natural to fortify this brunchtime favorite with a nip of something strong.
Plenty of complementary liqueurs came to mind; we tried brandy, Cointreau, Kahlua, and even nocino. But in the end, tequila worked best. A tot of mezcal adds fire and a touch of funk, which keeps the drink from veering off into sickly-sweet territory. A dash of orange bitters rounds out the taste and keeps the tequila's aroma in check. (In a pinch, Cointreau or another orange liqueur would do the same, but the drink needs no extra sweetness.)
The Spanish word chispa literally translates to "spark", but it also has connotations of enthusiasm, liveliness, and — a ha! — small amounts of liquor. And in some parts of Latin America, chispada (lit. "sparked") is a colloquial expression for "buzzed" or "tipsy". More genteel than borracho ("drunk"), it's something you might say about your grandma after she'd gotten uncharacteristically alegre at a family gathering. In other words, you've imbibed just enough alcohol to warm your toes, but not enough to slur your speech.
If you don't want to buy Mexican chocolate tablets just for this recipe, feel free to make your own, or simply add cinnamon (preferably canela) to your usual hot cocoa mix or recipe. The texture won't be the same, but the flavors will still sing.

La Chispa
Mexican chocolate, such as Ibarra or Abuelita
1 cup milk
1 to 1.5 oz. medium-quality tequila, to taste
2 dashes orange bitters (or a dash of Cointreau)
whipped cream, perferably unsweetened
Prepare the Mexican chocolate according to package directions — typically 8 oz. hot milk blended with 2 wedges of chocolate tablets. In a mug or an Irish coffee glass, combine the tequila, bitters and the hot chocolate, and stir gently to combine. Top with a dollop of whipped cream, and dust with cinnamon or chile powder.