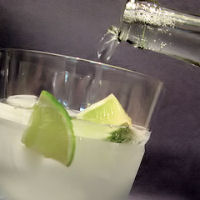 I can't remember exactly when I first tried a tequila and tonic, but I can remember why: I was searching for a standard drink. I wanted to have a drink in my mental back pocket that I could order when the specialty cocktail list got too goofy. Or when I'd arrived late and everyone else was already halfway through their glasses and a waitress was asking, "And can I get you anything?" as she whooshed by on her way to another table. An easily-described drink made out of ingredients available pretty much anywhere, one that even the most ham-handed bartender couldn't screw up too badly.
I started from a gin and tonic baseline. Rum and tonic was too sweet. Vodka and tonic just tasted like tonic. I never tried bourbon and tonic, because that's just too weird even for me. But one night I asked for a tequila and tonic with a lime, and I've never looked back. Tequila and tonic trades on the same bittersweet, citrus pleasures as the gin and tonic, but substitutes spicy roundness for medicinal bite.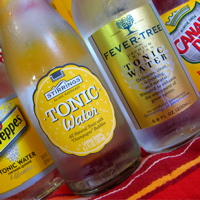 These days, I'm looking forward to a tequila and tonic at the homestead even more than usual, as the renewed national interest in cocktails has spawned a couple of boutique tonic waters. So, as part of the Drink of the Week and Mixology Monday festivities, we rounded up a couple of the new entries–Stirrings and Fever Tree–to put them to the test against the supermarket standbys: Schweppes and Canada Dry.
The results were interesting. Canada Dry was the clear loser with a Two Tongues Stuck Out in Disgust rating; "Overly sweet and chemical-tasting," said our panel. Our tasters were also a bit disappointed by the Stirrings tonic. It had the advantage of tasting like natural product, but was nearly as sweet and oddly fruity as the Canada Dry. The second mass-market entry, Schweppes, fared better, although it brought out the boozy, horse-blanket nature of the tequila. The overall winner was the Fever Tree tonic, which balanced sweet and bitter and added welcome herbal notes.
Purely in the interest of science, we also compared the two supermarket brands in multiple formats: 10-ounce bar bottles and liter-sized big 'uns. Just as I've always thought, the contents of the larger bottles were OK when fresh, but quickly took a turn for the flat and lackluster, which further exacerbated their chemical-y, medicinal undertones.

Tequila & Tonic
2 oz. aged tequila (we use El Jimador Reposado)
3-4 oz. good-quality tonic
lime wedge, for garnish
Build over ice. Sip suavely, Rico.