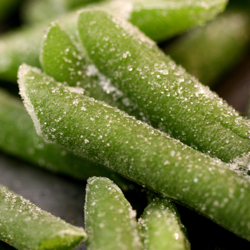 Our main fridge in the kitchen is a counter-depth, side-by-side model. Its narrow, shallow freezer doesn't hold a lot, volume-wise, but picking a bigger fridge would have meant a lot of kitchen remodel trade-offs that we weren't willing to make. The ancient fridge we inherited from the previous owners was wheezing and leaking by the time we started our remodel, so we killed two birds with one stone by buying an old-school (but brand-new and EnergyStar compliant) over/under fridge for the basement.
The plain-Jane newbie was a perfect stopgap for us to use until we moved back upstairs, and now we fill the basement fridge with all those goofy condiments we only need twice a year (cooking Thai food will do that to you) and extra beer. When fiesta time rolls around, the beer gets moved up to a cooler on the back porch, and the downstairs fridge gets filled with all the party mise en place. And, of course, the second fridge's freezer is our storage vault for things like summer veggies, pasta sauce, make-ahead meals, and other frozen staples. We keep one or two packets of each thing in the main fridge, and the back-stock downstairs — a bit of it's an oddball system, but it works for us.
At least 90% of the time it does. But when you're prone to making megabatches of chicken stock, things can go south pretty quickly.
Last week, I innocently opened the freezer door in search of some chile verde, and a tectonic shift sent plastic-encased projectiles plummeting toward the floor. Thank goodness I had my clogs on, or I might've lost a toe! I'd stacked food cubes like a giant game of Tetris — or maybe more like Jenga — and I'd paid the price. Clearly, my version of Fibber McGee's closet needed a clean sweep. I took everything out of the freezer (note to self: wear gloves next time!) and reconfigured it all in a less-precarious arrangement. Still, though, the tiny compartment was pretty close to capacity.
To try and eat down our storage problem, I put us on a strict diet: Every dinner we ate at home had to have at least one frozen element… at least until there was enough room to store another batch of Bolognese sauce. (It's nice to have problems that can be solved by eating.) With spring on the horizon, it seemed safe to start really digging into our local-food stash. After all, we'll start seeing roaster/fryer chickens at the market again next month, and we've got plenty of canned tomatoes to last us through to the new season — the hothouse Early Girls are already coming in, much to my shock.
Due to a combination of Presidents' Day weekend festivities and long nights at the office, we only managed 5 dinners at home during the last half of February — all of them, of course, at least partially from the freezer. We'll keep plugging away at our hoard over the next few weeks, but now there's enough breathing room in the freezer that I don't feel bad eating the occasional freshly prepared supper.
In fact, the downstairs freezer is looking downright breezy at the moment… A phenomenon that should last until we start getting 9 pounds a month of sustainable, local beef, pork, and lamb from Marin Sun Farms' new meat CSA.
Hmm, do you think a third fridge would be excessive?
Dark Days Ticker — February 15 to 29
- Dark Days dinners at home: 5 dinners
- Locavore dining-out: O Izakaya Lounge, Primavera, Tacubaya
- Freezer fodder: Short-rib ragu, Cornish pasties, rigatoni bolognese, turkey meatballs, chicken pot-pie
New local items in the pantry:
- Scharffen Berger cocoa powder (Berkeley, 13 miles)
- Marin Sun Farms pastured eggs (Point Reyes Station , 44 miles)
- Katz champagne vinegar (Napa, 57 miles)