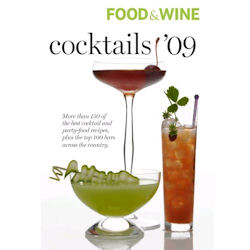 For the food-obsessed, there are a lot of exciting things that pop up in the spring. The first tender favas, skinny spears of asparagus, and fruit-tree blossoms that promise a sweet summer ahead. But in our circle of friends, there's been another anticipation afoot: The long wait for the new edition of Food & Wine's Cocktails annual.
You may recall our "Book Club" making visits to Range, Forbidden Island, and Bar Drake last year; in fact, our crew managed to hit every San Francisco bar listed in the 2008 edition, sampling a few gems amid a stunning number of failures. (Not to mention the many AWOL contenders; I wish we had a dollar for every time we heard "Oh, that? Nobody liked it, so we took it off the menu." Sigh.)
When I crossed paths with the book's compiler, Jim Meehan, at his NY speakeasy PDT, I gave him a fair bit of good-natured grief for our trouble. He allowed that the fleeting nature of drink recipes could be a bit of a problem, but assured me that big changes were in store for 2009, and seemed confident we would like the new direction he'd taken.
It's still the same book — digest sized, with a clean and colorful layout. But in the biggest change from previous years, where chapters were organized by base spirit, this year's book focuses on themed chapters: aperitifs, Latin drinks, seasonal drinks, frozen drinks, pitcher drinks, after-dinner drinks, classics, mixologists' drinks, and mocktails. Each section has a patron bartender, who is briefly profiled and provides all the recipes. Bar celebrities like Jamie Boudreau, Julie Reiner, and (the book's co-editor) Joaquin Simo take their turns, as do lesser-known mixmasters such as Jeff Grdinich.
The mixologists' section is like a miniature version of previous editions of the book, a compilation of 18 drinks from top bartenders across the country. Although it's hard to tell without actually mixing them, the drink recipes from San Francisco shakers — Absinthe's Jonny Raglin, Neyah White of Nopa, and Jacques Bezuidenhout of Bar Drake — look great on paper. But better still, they come from bartenders who we know understand what works, not just in a highly controlled test-kitchen environment, but in everyday drink-slinging bars. It's no surprise that some of the cocktails we liked best from last year's Book Club came from these gentlemen; I can't wait to give their recipes a test drive.
As before, there's a directory of top bars listed in the back. This time, the list is explicitly titled "Top 100 Bars", though they are not necessarily correlated to the included recipes. Frustratingly, other than hat-tips to chapter hosts, there's no cross-reference to each establishment's recipes by page number, a detail from past editions I will definitely miss. Cantina's blurb, for example, mentions Duggan McDonnell by name, offering that "Many of his creations are featured in the Pitcher Drinks chapter (p. 94)." But Absinthe's listing neither mentions Jonny Raglin, nor directs readers to his recipe on page 135, opting instead for a quizzical mention of Top Cheftestant Jamie Lauren.
As far as the local bars in the Top 100, there's only a couple of quibbles. Everyone I've asked is surprised by the omission of Oakland's lovely Flora, and it's odd that Bar Drake didn't make the cut this year when Jacques' recipe did. Bix, however, is a total head-scratcher. Despite reviving the classic-cocktail genre a full decade before almost anyone else in town, this stalwart has long been eclipsed in both technical merit and outright hospitality.
The visuals, always a strength of this series, continue to impress. In addition to ace prop styling and eye-popping photography found in previous editions, this year's version includes more infographics, which should help users navigate now that the book is not organized by spirit type. Graphics show ease of construction and base spirit, in addition to the glassware icon of the past editions. The front matter is perhaps a bit basic for experienced bar aficionados, although there is some good stuff about ice, must-have spirits, and best brands taste-test winners.
Do you need Food & Wine Cocktails '09 in your bar library? Probably not. But at $10, it's less than the price of a drink at nearly any of the places it trumpets, and it's bound to be a fun souvenir of the way we're drinking in the late aughts.
Bay Area bars/restaurants in the Top 100
There are 13 of them this year, which — for those of you keeping score at home — is more than any other city except NYC (home to 14). Mixologists mentioned by name in their establishment's blurb are shown in brackets.
- Absinthe
- Alembic
- Beretta [Thad Vogler]
- Bix
- Bourbon & Branch
- Cantina [Duggan McDonnell]
- Clock Bar
- Elixir [H Ehrmann]
- Forbidden Island
- Heaven's Dog [Erik Adkins]
- Nopa [Neyah White]
- Range
- Slanted Door
San Francisco cocktail recipes in the Mixologists' Drinks chapter:
- Jonny Raglin, Absinthe
Villa Flores: jalapeno, tequila, egg white, grapefruit, agave, orange-flower water, Sichuan pepper garnish
- Neyah White, Nopa
Cherry Samba: cachaca, cherry Heering, Islay Scotch, lemon, simple, egg white
- Jacques Bezuidenhout, Bar Drake
Black Friar's Pint: gin, cardamom-cinnamon Guinness, sherry, bitters, agave, egg white, cinnamon garnish
San Francisco recipes for Party Food:
- Warm Marinated Olives, Seasons Bar & Lounge
- Queso Fundido, Tres Agaves
- Polpette in Spicy Tomato Sauce, Beretta
And one San Francisco chapter host: Duggan McDonnell of Cantina