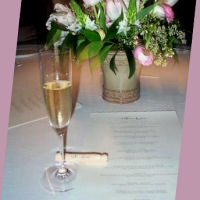 We'll be away from the blog for a few days. We have an occasion to celebrate, and dinner reservations at a special place tonight. (Please forgive the photo — it was the best of the roll from our last visit in 2005!)
I'm stunned to realize that it's been more than two years since we visited Wine Country. Is it possible we haven't been back since we left Seattle? That's almost as hard as it is to believe that it's been five whole years ago since we were married, just on the other side of the hills in Sonoma County.
Have a great weekend. I know we will!