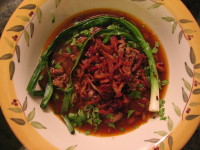 Last Saturday at the market, Steve gave us a copy of a recipe for Carne en su Jugo — a traditional dish from Jalisco — that he said was indescribably delicious.
We finally got around to making it last night… and he's right. It's a gorgeous soupy, spicy dish that's somehow hearty and light at the same time. If you've already got the beans cooked, it's even quick enough to make on a weeknight after work.
Carne en su Jugo, Estilo Tapatío
Adapted from Savoring Mexico
1/2 pound good-quality bacon, cut into small sticks
1 pound beef sirloin tip, thinly sliced on the diagonal and then coarsely chopped
4 cups rich beef broth or stock
2 chiles chipotles en adobo
2 small bay leaves
2 tsp. sea salt
1 tsp. ground pepper
1/2 pound dried beans – soaked, cooked and drained (we used Red Nightfall)
1/2 cup chopped cilantro
8 large spring onions, grilled
4 serrano (or 2 jalapeño) chiles, minced
2 limes, quartered
In a frying pan, slowly fry the chopped bacon over medium-low heat until crisp, then drain on paper towels. Raise the heat to med-high and cook the beef in the bacon drippings for about 2 minutes. Remove the beef with a slotted spoon, and place in a large, heavy pot.
Put chipotles in a blender with about 1 cup of the beef broth, and blend until smooth. Add the chile-beef liquid to the large pot, along with the remaining beef broth, the bay leaves, salt and pepper. Bring to a boil, then reduce heat to low. Cover and simmer until the meat is tender, approximately 20 minutes.
Warm the beans over med-low heat. When meat is cooked, divide the beans among 4 bowls, then ladle the meat and the broth over the beans. Garnish with the bacon and cilantro, and lay 2 onions along the rim of each bowl. Pass the diced serranos and limes at the table, and enjoy with good-quality tortilla chips.