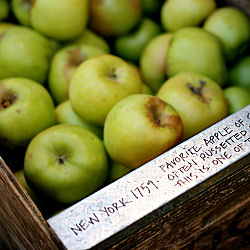 When I think about the bloggers participating in the Dark Days Challenge in places like Maine or Minnesota or Michigan — places where winter actually involves snow, frost, and farmers markets that close for the season — I feel like a fraud.
We still had tomatoes at our market this weekend — heirlooms and Early Girls and a rainbow of Sweet 100s — from a surprising number of farms. They sat there in their little cliques, cozying up to their buddies, red peppers and basil. You could almost imagine them standing in front of a mirror inspecting their own summery plumpness and silently mocking the homespun pumpkins and Brussels sprouts on the next table over.
Frankly, I'm over these cheeky girls of summer. I'm ready for the potatoes and the greens and the crisp new apples. It's a little eerie to realize that I could eat today the same meals we made in June without even leaving the market. I even saw three different vendors who were still selling strawberries… they've been on the farm tables since the first week of April, for goodness sake. I'll be sad when the pasture-raised chickens come to an end, but that's really all I'm going to miss from summer. Autumn is my favorite eating season.
We started out our Dark Days Challenge last week with some of our favorite standbys. We make these dishes a lot, and we're pretty dialed in on where to find their ingredients from local sources. And I suppose that's one of the benefits of eating locally all the time: With the exception of farmers dropping out of your market, you pretty much know where to find your favorite things, after a while. You also know, eventually, what's hard (or even impossible) to find; it makes you more alert when you spy something you haven't found locally before.
Speaking of which, our friend Cookie turned me on to a local source for wheat flour and polenta. Although Full Belly Farms is about 100 miles away, they don't come to my local market — they sell at weekday markets in places I can't get to during the workday, plus one Saturday market down in Palo Alto, 30+ miles south of us. So now I get to make the choice about whether it's better to drive an hour to buy the local option, or stick with my carb exemption. The other good news is that I found out (from Cookie, again) that the white rice we've been buying is harvested semi-locally… about 150 miles away.
Here's what last week looked like:
Chicken & Dumplings
- Marin Sun Farms chicken; onions, carrot, celery from the market; garden herbs
- biscuit mix from Beth's in San Rafael; Clover Organic milk
Chili Dogs (can't watch the playoffs without 'dogs!)
- Prather Ranch uncured hotdogs and Acme pain de mie buns
- Chili made with our own tomato sauce and homemade pork sausage, plus Prather chuck
- Eatwell Farms onions, and non-local (but organic) cheese
Oxtail Ragu and Pasta
- Marin Sun Farms oxtails braised with our own chicken stock and tomato sauce
- salad: red-leaf lettuce (Little), avocado (Will's) and tomatoes (Everything Under the Sun)
- non-local dried orecchiete pasta
Pork & Potatoes
- Double-cut Prather Ranch pork loin chop on the grill
- Roasted Iacopi Farm brussels sprouts with Bariani olive oil
- Roasted 'rose Finn apple' potatoes from Mr. Little
Pasta (Not-Quite-)Bolognese
- meat sauce made with Prather beef and pork, Mariquita tomatoes, Eatwell onions
- garlic bread: Clover Organic butter, Acme rolls, local garlic
- non-local dried pasta