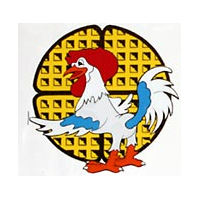 A few years ago I walked by a restaurant that caught my eye. The name promised a fusion theme and while I don't remember the two cusines being fused, I do remember that the combination was unlikely enough (Japanese-Greek? Mexican-Scandinavian?) to make me stop and check out the menu in the window.
For sheer entertainment value, it was a great way to blow five minutes. The proposed fare sounded like the restaurant owner had asked a sixth-grader to combine the signature ingredients from two violently different culinary traditions. Lutefisk Gazpacho, that sort of thing.
One might make the same argument about chicken and waffles. I certainly did the first time that I was introduced to them. Individually, they're great, but together? They turned out to be delicious. It was one of the rare moments where two completely different things mesh together perfectly.