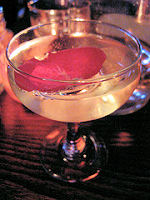 I was cruising through previous editions of Drink of the Week, and found that a suprising number of them have called for some form of bubbly. I guess you know my weakness now! Here's a recap, in case you're stuck for ideas:
Rosemary Five: You haven't forgotten this one already…
Black Velvet: Guinness stout and bubbly
Gilded Pear: Pear Cognac, ginger-infused vodka, bubbly
Poire Royale: Pear Cognac or eau du vie, bubbly, raspberry
And here's a new one, a riff off the classic Champagne Cocktail. but replacing the bitters with rosewater. At The Front Porch, our local Caribbean-meets-Soul joint, they've put together an interesting drinks menu despite their lack of a full liquor permit. Instead of the dreaded sake-tinis and soju-tails you often find at limited-license restaurants, all of their libations are based on ciders or bubbly.
Ramblin' Rose
from The Front Porch, San Francisco
Sparkling wine
1 sugar cube
Rosewater (available at BevMo and most grocery stores)
A pesticide-free rose
Soak a sugar cube in rosewater, and place in a flute or champagne saucer. Fill the glass with bubbly, and garnish with rose petal.
—-
A comment about comments: We've implemented a new spam-prevention system behind the scenes, which should remain invisble to most users. At the worst, you may get a challenge question now and again, especially if your comment includes multiple links and/or is posted from an IP address that's ever been flagged as a spam source. (Apologies to those on Earthlink and AOL, specifically.) If you post a comment that you don't see pop up on the site in due time — or if you get sick of dealing with the challenge question — please drop a note to chef (at) marriedwithdinner (dot) com, and we'll add you to the approved commenters list, so you don't get caught up in the filters.