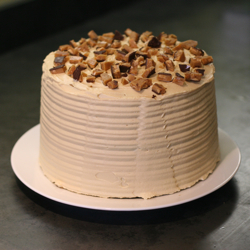 When my mom was growing up, homemade dessert was a regular occurrence around the dinner table. By the time I was a kid, the family tradition had lapsed; cakes and pies showed up mostly around the holidays or on someone's birthday. Not that I felt deprived: To this day, my idea of dessert is scraping the bowl for the last spoonful of mashed potatoes, or sneaking an extra meatball from the lunch-bound leftovers.
Despite my defective sweet tooth, I love to bake for friends and family. At my office in Seattle, I belonged to a crew of hard-core amateur pâtissières dubbed the Spare Change Bakery. We all kept jars on our desks for our coworkers' contributions, and as soon as we scraped together enough nickels and dimes, one of us would whip up a double- or triple-batch of something sweet and scrumptious for the next staff meeting. By the time we disbanded, we were collecting enough cash to bake every week — a gratifying but rather exhausting sign of our popularity.
But since we moved back to San Francisco, I haven't had many excuses to bake. Sure, our dinner parties often need a sweet ending, but I miss those crowd-pleasing desserts: Brownies, bars, and other decidedly lowbrow sweets. So when I saw the photo of the Spice Cake with Coffee Toffee Crunch on the cover of the new issue of Sunset, I knew my path was clear. The theme for this month's "Waiter, There's Something in My…" event is layer cakes, after all, and there's just something about a sky-high cake with cream-cheese frosting that sends me running for my sifter and whisk.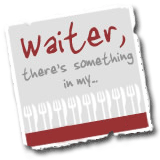 Working my way through the recipe, I found it refreshingly well documented. The writer details a number of steps — creating a crumb coat, and using strips of parchment to keep the serving plate clean — that help give the final cake a centerpiece-worthy appearance. With the exception of the recipe's lack of measurements by weight (the serious baker's preferred method for dry ingredients like flour and sugar, especially), it was one of the best-written magazine recipes I've used in months.
Aside from substituting Alfieri Farms' almond brittle for homemade coffee toffee, I followed the recipe to the letter, so click over to Sunset's site if you want the full rundown. Although I doubt the magazine's suggestion that this cake will replace pumpkin or pecan pie on your holiday dessert buffet, it's got a spicy, deep flavor that would make a perfect finish for an autumn feast. While the icing's got enough sugar to satisfy even the most intense sugar junkie, the cake itself — sweetened with molasses — keeps things moist and spicy without too much sweetness… just the ticket for a baker without a sweet tooth.