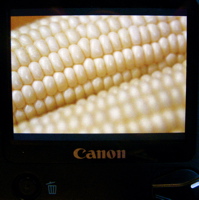 In my youth, I was actually something of a photo geek: I built a darkroom in my parents' garage, I worked for my Dad all summer between 8th and 9th grade to buy my first SLR, and I won a school-wide award for photography a year later. I was, even then, a tinkerer, a collector of gadgets and gizmos.
By all rights, you'd think an equipment geek like me would have some big, black, long-lensed monstrosity… when instead I actually tote a cute, shiny, pocket-sized snapshot-maker. I've looked longingly at the gorgeous shots created by those who own the real deal, all the while coaxing my poor little PowerShot into giving up decent photos.
Cameron — who hails from a photo-obsessed clan — hasn't helped matters. He's been egging me on to purchase a dSLR for months, reminding me of the old adage that equipment should always be better than the human behind it. I knew he was right, but I felt like I couldn't justify the expense: I'd just upgraded my point-and-shoot last November, a purchase that set me back far more than I really wanted to spend. And ultimately, the blog's just a hobby… it's not like anyone cares whether the image is a little noisy, or the lens distortion gets a little distracting.
Early last week, my equipment envy reached a peak. A friend who just started blogging mentioned that he'd splashed out for some gear to help improve his online shots. I replied covetously, saying something to the effect of "I wish I could buy a dSLR, but it's not like I have a spare grand sitting around."
And then, two very interesting things happened.
I got home, opened the mailbox, and found a check — a completely unexpected payment for something I did on a lark more than a year ago — for $945. Not quite a grand, it's true, but you could say that the universe had succeeded in grabbing my attention.
The next morning, I noticed a lot of inbound blog traffic from a link called "DMBLGiT: The Winners!" I clicked the tracking URL, and my jaw hit the keyboard. Holy cats: I'd tied for first place in this month's Does My Blog Look Good in This?, the food-bloggers' photo contest! I'd never even entered before, and I'm up there on the big screen with DPaul & Sean, and Ilva, and plenty of other talented folks whose blogs I read regularly and whose photos make me swoon. It's so ridiculous, I still don't really believe it. But does that stop me from celebrating? No, it most certainly does not. Celebrating is something I understand very, very well.
The rather obvious end of this little tale: I am now the proud owner of a brand-spanking new Canon 30D. At last, a real camera. Interchangeable lenses! A usable viewfinder! And best of all, as Cameron says, "It makes that Girls on Film noise!"
We took the new toy up to Napa this weekend, and both of us captured a surprising number of lovely shots, considering we hadn't even read the manual yet. (No, I didn't haul this behemoth out at The French Laundry. Shuh… even I have my limits!) I know it'll take a while before I dial in the seemingly limitless new features at my disposal — no film camera was ever this confusing …or have I just gotten old? But in the meantime, if you keep an eye on my photostream, you'll get to see me take my first baby steps back from the point-and-shoot realm.