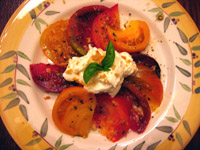 Boy, did we have a blast this weekend… so much so that I've been too beat to blog.
Saturday found us in the usual place: Breakfast at Primavera — ack! no chilaquiles? I suppose migas are close enough — then a long wander around the Farmers' Market. Highlights included taste-testing about a gazillion peaches (oooo… Frog Hollow didn't make the cut), looking far and wide for the best heirloom tomatoes, having an excuse to splurge on burrata at Cowgirl, discovering the previously mentioned tri-tip of luv at Prather, and scooping up the weekly bag of gloriously bacony avocados from Brokaw … mmm, mm!
Back south again with a stop at In-N-Out Burger en route to Target and the Colma BevMo for their big Grand Reopening sale (had to use that $10-off-$40 coupon!). Then back home, for a bit of prep cut short by realizing that we'd forgotten a few things… Off to Noe Valley on a "bourbon and bouquets" run, stopping at French Tulip — where we ran into Sean, quelle surprise — for hydrangeas and such, then on to Urban Cellars for a shockingly overpriced bottle of Knob Creek.
Whew. No wonder I'm tired… that sounds exhausting. But at the time, it felt like a nice and leisurely preparation for the dinner party we hosted on Saturday evening, jokingly (but accurately) called "bounty of the market, plus cheese".
As our guests arrived, we started with a round of Currier cocktails on the back deck, accompanied by gorgonzola-and-peach bruschetta from the Ferry Building cookbook. Moving to the table, we paired a surprisingly affordable Yalumba 'Y Series' viognier with a salad of heirloom tomatoes, rosemary salt, burrata, and toasted pain-de-mie breadcrumbs (photo, above).
For the main course… there goes that tri-tip again, offered with a side of our friend Wendy's luxurious penne-and-cheese, the winner of a recent mac-n-cheese cookoff among our old Seattle crew, and a Galante Vineyards Carmel Valley cabernet. (We won't talk about the haricots verts that we forgot to serve… oops.)
Dessert was easy but good: We stole a page from our friends Russ & Nick's dessert tricks, sweetening mascarpone with honey… which we then drizzled over Ciao Bella grapefruit-Campari sorbetto, topped with a few perfect raspberries. Then coffee in the living room, served with a platter of kumquats and shortbread, and another of madeleines and macarons from Miette, and some Recchiuti fleur de sel caramels.
Hard to imagine we had the strength to get up the morning after such a glorious evening, but shopping waits for no woman! Another early stop at JoAnn's en route to Toys 'R' Us — our niece is on her West Coast tour and must have Dora! — then home for a quick nap before the family arrived. Thank goodness we have an appreciative audience for our leftover mac and cheese.