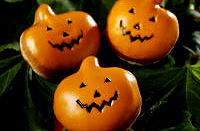 Krispy Kreme's got a pumpkin spice cake doughnut on offer for the holidays, plus — so cute it's almost scary — pumpkin-shaped raised glazed with 'ittle Jack-o-Lantern faces (pictured at right) through the end of the month. Awww!
Hot on the heels of their "$6,000 combo meal" TV spot, the fast-food hucksters at KCE/Hardee's (that's Carl's Jr. to us West Coasters) released a list of suggested wine pairings for their speciality sandwiches. Perhaps monsieur would care for a bottle of Peachy Canyon Incredible Red with his Jalapeño Thickburger?
Or perhaps a bottle of bubbly? Perrier's launching a new campaign aimed at the younger set, going for that edgy thing in an attempt to ditch its Miami Vice-era aura.
I'm still reeling from their purchase of Sharffen Berger, so please forgive me if I don't seem happy about Hershey's buying up Oregon's Dagoba Organic Chocolate.
News of the wierd: Until last week, the world's largest curry house was located in West Yorkshire, of all places. Hard to imagine that it's gone out of business, innit?
Another shocker: The Amish don't want your flippin' food stamps!