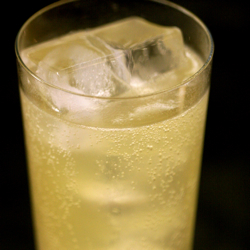 The San Francisco cocktail circuit is a pretty cozy scene. It's not just that bartenders pick up shifts at three or four different bars or restaurants in as many nights, although that helps. It's more that for some reason, every now and then, a somewhat obscure cocktail will simultaneously capture the imaginations of multiple menu-writers. Suddenly you see the darned thing everywhere.
Last fall, the cocktail of the moment was the Dark n' Stormy; every watering hole in The City had it on their menu, and pretty soon Gosling's Black Seal was a common sight on the speedrail. The effect is so pervasive it feels like one of those community reading programs where everyone skims the same hardback on the subway, except here in SF, it's "One City, One Drink".
Winter's finally over, and so the ginger beer, sadly, is making its way back to the cellar. But ready to take its place, you'll find a slew of imported, artisanal, and home-brewed grapefruit sodas. Paired with a healthy glug of reposado tequila, a pinch of salt, and the juice of half a lime, you've got yourself a Mexican fiesta in a glass, that lazy-man's margarita known as the Paloma.
Of course, it wouldn't be San Francisco without some liberties taken. Over at the Chronicle, our pal Jane details three different SF bars offering their own twists on the Paloma. Alembic uses homemade soda and some spicy secret ingredient; newcomer Beretta adds elderflower and Cointreau… hmm. I'm sure they're lovely, but honestly (and here's something you won't hear me saying often) I'm pretty sure I'd rather try my luck at Tres Agaves. Their straight-ahead, old-school version uses Jarritos soda, which — after sampling Squirt, Hansens, and Fresca — I'm going to say is an essential ingredient. So please, hit up your local bodega or taqueria, and look for the bottle marked "toronja".
My one deviation from the Paloma recipe you'll find at beachfront cantinas up and down the Baja coast is a good shake of Fee Brothers' Grapefruit Bitters. They're optional, of course… but they add a delightful boost of grapefruit-peel flavor and accentuate the spicy tequila bite.
Paloma
2oz reposado tequila
juice of 1/2 lime
Mexican grapefruit soda, such as Jarritos
a hearty dash of grapefruit or orange bitters (optional, but delicious)
table salt (not kosher)
Combine the tequila and lime juice in an ice-filled highball glass. Fill with grapefruit soda, then top the ice with a shake of bitters and a healthy shake of salt.