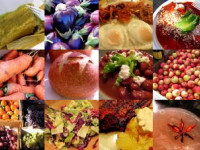 Over on the always-delightful Becks & Posh, Sam challenges us to join her in a rather exhibitionist exercise: Photographing everything that passes our lips for an entire week, and sharing with our readers:
I hereby commit, starting from the moment I wake up on Monday November 20th, to the minute I go to bed on Sunday 26th November 2006, to take a picture of everything I consume… I think it will be a fascinating excercise, especially to be able to compare America indulging in Thanksgiving whilst others are not.

…We'll aim to post up our pictures on our blogs on Monday 27th November.
We'll be home the first part of the week, before heading out of town for Thanksgiving, then at Mom & Dad's for the rest of the challenge period. My family already thinks I am crazy, and there shouldn't be a lot of restaurant meals to throw a wrench into the works.
I promise not to post all the pix to MWD, but I'll blog about interesting meals (as usual), and starting tomorrow I'll put all the photos in a Flickr set. And, of course, there'll be the full roundup next Monday.