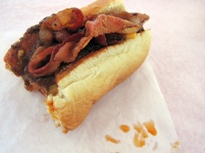 BACON BURRITO DOG
Big flour tortilla wrapped around 2 hot dogs, 2 slices of cheese, 3 slices of bacon, chili & onions.
Those words, announcing one of the many fat-tastic specials at Pink's Hot Dogs on La Brea at Melrose, are among the many reasons why a trip to L.A. doesn't feel complete without a stop at Pink's.
On our last visit to El Pueblo, I ended up flying solo for a day while Anita was at the UCLA campus attending a blog writing "workshop." My plan for the day: go play in Hollywood.
I'm not a fan of the typical Hollywood Boulevard shtick. My Hollywood starts at the corner of Sunset and Gardner, where there are about seven guitar shops in a two-block span, including a huge Guitar Center. But once again, Fate intervened. While walking from the car to my first guitar shop destination, I found the amazingly cool Orphaned CDs used CD store…which also happens to rent tuxedos, so you can get your outfit and ceremony music in one convenient stop.
I say that Fate intervened, because had I not found Orphaned CDs, I probably would have spent the morning as a much-hated "twiddler," playing horrifically expensive guitars through exquisitely costly amplifiers that I had no intention of buying. But as I sat down with my first axe of the day, my newly-purchased CDs began to sing to me through their plastic bag. "Go," they crooned, "Drive."
And I did. I put down the guitar, walked out, climbed in the car, slotted "Welcome Interstate Managers," by Fountains of Wayne, cranked the volume, slid down all the windows, and rolled out to cruise Paradise City. Did I mention that the sun was shining? Do I need to?
Yes, yes. We're coming to the part with bacon.
I love banging around West Hollywood on general principles, but Pink's was the touchstone of my day. Technically, it's just a hot dog stand, the way that the New York City Marathon is technically just a footrace. Pink's has been around for 65 years; a local legend visited by the unknown, the up-and-coming, the about-to-be, the recently-were, the has-been, the never-was, and occasionally, the OH-MY-GOD-IT'S.
There ain't nothing fancy at Pink's. Anything that don't come from a can comes out of a package. You stand in a line that folds three times across the length of the front counter. When I queued up after finding a spot in the tiny parking lot, mirabile dictu, it was at about the two-and-a-half fold mark. It's not uncommon for the line to stretch back another half block, which in L.A. works out to about two miles. As I waited behind six Japanese teenagers dressed in matching designer hobo rags and biker wallets (I swear on my life that two of them had identical leather shirts), the man behind me regaled his companion with the story of the time that he and a friend, criminally late for a gig and having already eaten dinner, stopped at Pink's to chow down for no other reason than because there was no line. It's that kind of place.
Meanwhile, behind sweeps of cafeteria glass a troupe of very serious Latinas (never seen anyone back there who couldn't plausibly answer to the name Maria, and every one of them could and would kick your ass) hustles out onion rings, fries, and some seriously unreal hot-dog-based food. Hot dogs, polish dogs, turkey dogs even. Don't like bacon on your burrito dog? How about pastrami? Yeah? Polish or Brooklyn pastrami? Nacho cheese, tomatoes, coleslaw, sauerkraut, pickles, sour cream. The list goes on.
You order. Fast. The crew member who takes your order sees it all the way through to completion while you pay the cashier. They have an odd array of bottled soda, including grape Crush. Out back, a batch of tables is mostly shaded from the eternal sun by umbrellas, and a small sheltered dining room is lined with signed headshots. Nicole Kidman appears twice, for reasons that are undoubtedly best left unexplored.
The Bacon Burrito Dog is my Usual, but we've got dinner at AOC lined up for that night, so I opt for the less gut-busting Bacon Chili Dog with my grape Crush. With cheese, natch. The dog colors my plate with greasy orange love. I finish and head out to the car, tool up Melrose and do some window shopping and people watching. I love L.A.