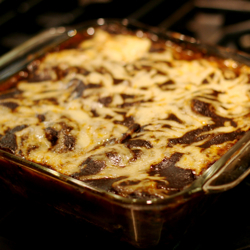 Getting the house — and the fridge — ready for our 10-day Christmas absence was an enormous pain in the ass. Truthfully, I enjoy the puzzle of combining fresh food and freezer fodder to make reasonably coherent meals, but sometimes this happens at the expense of our 90%-local Dark Days Challenge goal.
A case in point: We needed to use up tortillas (local), beans (ditto) and salsa (yep), plus an assortment of cheeses (likewise) — a natural set of ingredients for Budín Azteca, a.k.a. tortilla pie. So we defrosted the last of the local Thanksgiving turkey… and a decidedly non-local batch of mole sauce. We could say that the chiles qualify as seasonings and the chocolate's a baking supply — both of which are exempt from the challenge. But given that we made and froze this sauce early last spring, long before even our first stab at locavorism, that seems a bit far-fetched.
Our second attempt was less of a stretch. With a half-jar of home-canned tomatoes, a few strips of Fatted Calf pancetta, half a ball of Belfiore mozzarella, and a handful of Far West mushrooms, we had all the makings of a couple of pizzas. We'll overlook that the frozen pizza dough was made months ago with non-local flour (it's still an exemption, after all, even if we have found some local sources for grains). Add a salad of Star Route Farms romaine, radicchio, and radishes, and we could call this our first true 90% meal of the week.
Hitting the mark without a single cheat, Tuesday night's steak dinner featured Prather Ranch ribeye, an assortment of stray Little's potatoes mashed with Straus cream and Clover butter, and another big salad, this one dressed with Point Reyes Blue and Bariani olive oil. Yum. Friday's pasta night was another clean sweep: Our usual Bolognese sauce over Eduardo's, a carrot-and-radish-topped salad, and garlic toast made from the heels of our Acme pain de mie loaf.
All in all, not a bad week of local eating, given everything else that we had going on.
It's been a while since we've added any new local products to our pantry, but we discovered not just one variety but a whole assortment of dried chiles at the Tierra Vegetables stand at the Ferry Plaza market. Maybe, just maybe, the next time we pop a package of mole out of the freezer, we won't be fudging at all.





Budín Azteca
1 to 2 cups shredded chicken or turkey
1/2 to 1 cup prepared salsa
6 to 8 corn tortillas
2 cups mashed black or pinto beans
2 cups mole (recipe follows)
1/2 cup chicken stock, plus more as needed
2 cups shredded melting cheese, such as Jack or mozzarella
sour cream, sliced radishes, and cilantro for garnish
Preheat oven to 350°F.
In a saucepan, warm the beans over medium-low heat, thinning with chicken stock or water to a spreadable consistency.
In a separate pan, warm the meat with the salsa.
In a third pan, heat the molé, thinning with 1/2 cup or more of chicken stock, to a tomato-sauce consistency.
Heat the tortillas in a skillet or over an open flame. Cut each tortilla into quarters and keep warm, wrapped in a clean dishtowel until ready to use.
Set aside 3/4 cup of the mole sauce for later use. Spread a spoonful of the remaining thinned sauce on the bottom of a 9×9 pan. Layer 6 to 8 tortilla quarters on top of the sauce, followed by 1/3 of the beans, 1/3 of the meat, a quarter of the cheese, and another small drizzle of the sauce. Repeat layering until all of the beans and meat have been used. Top the stack with the reserved 3/4 cup of sauce and the last quarter of cheese.
Bake, uncovered, 30 to 45 minutes, or until the sauce is bubbly and the casserole is warmed through to the center. If the cheese browns before the center of the pie is heated, cover with foil to prevent overbrowning. (Do not cover before this stage, or you will end up with cheese stuck to the foil.)
Let the casserole sit 5 minutes before cutting. Serve with a green salad on the side, and your choice of garnishes.
—–
Mole de la Suegra
- adapted from Big Small Plates
2oz dried chiles negros
2oz dried chiles anchos
1/4 cup sesame seeds
1T whole black peppercorns
6 whole cloves
5 to 6 T lard or oil
2 slices french bread
1 large tomato, halved
1 large onion, cut into 4 thick slices
1 large clove garlic
2T salt
4 cups chicken broth
1 disk Mexican chocolate, coarsely chopped
Stem and seed the chiles, reserving the seeds in a small bowl, then gently toast the chiles in a skillet over medium heat just until soft; a couple of wisps of smoke are okay, but do not let them burn or your sauce will be bitter. Cover the toasted chiles with warm water and set aside.
Over high heat, toast the chile seeds lightly, continuously shaking the pan for 30 to 60 seconds. Return the seeds to their bowl. Toast the sesame seeds until lightly golden. Place them in the bowl with the chile seeds and let cool to room temperature. When sesame and chile seeds have cooled, grind them together with the cloves and peppercorns in a coffee grinder.
Put a large bowl next to the stove. In the skillet over medium heat, heat 2T of the lard until it shimmers. When fully heated, fry the bread until golden on both sides. Place the fried bread in the bowl. If needed, add another tablespoon of lard to the pan and caramelize the tomato, 5 to 7 minutes. When heated through and well browned, scoop the tomato into the bowl with the bread. Add more lard, if needed, and caramelize the onion slices and garlic, adding them to the bowl when well browned (7 to 10 minutes).
Drain the chiles, reserving the soaking liquid, and add them to the bowl. Add the ground seeds and spices and 2T salt to the bowl, and puree with a stick blender until smooth. (Alternately, you can blend in 2 to 3 batches in a conventional blender.) Add enough of the chile-soaking water to the puree to achieve a pourable consistency.
In a heavy saucepan over high heat, warm the rest of the lard. Before the fat smokes, carefully pour the sauce into the pan and fry for 1 to 2 minutes, stirring constantly. Reduce the heat and add the broth; simmer 10 minutes. Add the chocolate and simmer an additional 30 to 45 minutes. Use immediately, or cool to room temperature before storing.
Note: Unlike chicken stock or pasta sauce, we don't freeze mole directly in quart-size bags. Like other oily sauces — curry pastes, pesto, etc. — we chill and freeze it in 1- and 2-cup plastic storage containers. When fully frozen, the sauce pops out of the containers and can be placed in vacuum-seal or Ziploc bags for longer storage. Be sure to remove the puck of sauce from the bag before thawing, to keep sauce from sticking to the inside of the bag.