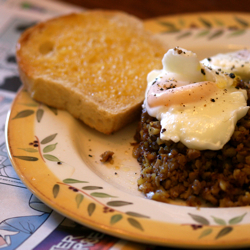 We've talked a lot about our Dark Days Challenge dinners, and even occasionally mention our lunchtime trials, but — aside from our "free-range" egg dilemma — we've rarely made a peep about breakfast. The truth of the matter is we're in a bit of a rut: Nearly every morning, Cameron eats an over-easy egg and a slice of Acme toast with Spring Hill farmstead butter. Not such a fan of the usual breakfast fare, morning often finds me dipping into leftovers, cannibalizing my lunch, or scrounging some other non-breakfasty breakfast.
But when the weekends roll around, it's big-breakfast time for both of us. Every Saturday, we head to the Primavera stand at the Ferry Plaza Farmers' Market at the start of our shopping rounds. We're so predictable that David and Paulette know us by name, tease us when we're bleary-eyed, and generally treat us like the regulars we are. Some days we split a single order of chilaquiles, but more often — especially if there's something else on the changing menu that catches our eye, like fish tacos, perhaps, or tacos al pastor — we'll each get our own plate and share. Primavera's tortillas and chips aren't made from local corn, but they do manufacture both items in Napa, and purchase their eggs and produce from local farms. Judged by volume, our Saturday breakfasts probably don't quite make it to the 90%-local mark, but we're content with understanding exactly where our food is coming from, and knowing that we're directly supporting such a fabulous crew.
We often stay up late on Saturday nights, so Sunday breakfast is more of a brunch-time affair. Sometimes we'll brown some homemade pork sausage and Cameron will whip up biscuits and gravy with scrambled eggs. Other times we'll simply fry up some local bacon — we alternate between Fatted Calf and Range Brothers — and serve it alongside two of Cameron's perfect basted eggs and a slice of Acme toast topped with June Taylor preserves or local honey. We rarely plan these Sunday meals in advance, and yet they're always wonderful.
During the first part of the month, we had two of my favorite brunches of all time: a post-porchetta batch of hash with poached eggs and buttery toast, and a plate of custardy French toast made from leftover baguette slices (we froze two bags full after the cocktail party!) alongside Range Brothers sausage. With the exception of maple syrup, and the flour in the locally made bread, everything on our table on both mornings was 100% local. And 100% fabulous.
For the most part, we stuck with old favorites and tried-and-true options for lunches and dinners in the first part of the month; even our Valentine's Day dinner was a simple grilled steak with creamed spinach and roasted potatoes, with ice-cream sundaes for dessert. We did have one out-of-the-ordinary supper: A picnic in a cozy downtown hotel room. Much as I'd love to tell you that we planned a romantic escape, the truth is that the overgrown frat-boy who lives in the house next door decided to have (yet another) all-night party, and we had to evacuate.
While Cameron packed up the dogs and our overnight bag, I headed to a local supermarket for makeshift meal provisions. The locavore-friendly pickings at the Bristol Farms around the corner from my office are pretty slim, but I did manage to score a crusty loaf of Artisan bread, some respectable sopressatta from a outfit called Ticino (a second-label brand from local mega-brand Columbus, it turns out), and a couple of nice local cheeses. A quick stop at CocoaBella turned up just two locally made treats: peanut butterflies and salt caramels from Charles Chocolates — a sweet ending to an otherwise hectic evening.
Dark Days Ticker — February 1 to 14
- Dark Days meals at home: 8 dinners, 2 brunches, most breakfasts
- Locavore dining-out: Range
- New recipes: Chard gratin, Coq au vin
- Old faves: porchetta, pork hash, shaved fennel salad, Clearman's red cabbage slaw
- Freezer fodder: Rigatoni Bolognese, Cameron's chicken soup
New local items in the pantry:
- Capellino spinach-ricotta ravioli (San Francisco — 5 miles)
- Charles Chocolates (Emeryville — 13 miles)
- Ticino sopressata (Hayward — 35 miles)
- Marin Sun Farms range roosters & stewing hens (Point Reyes Station — 43 miles)
- Artisan Bakers sweet batard (Sonoma — 47 miles)
- Barbara's Natural potato chips (Petaluma — 51 miles)
- Rancho Gordo chiles de arbol (Napa — 51 miles)
– Marin Roots Farm mâche/lambs lettuce (Petaluma — 52 miles)
- Fiscalini Farmstead 'San Joaquin Gold' grating cheese (Modesto — 87 miles)