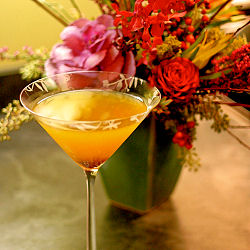 I know Valentine's Day is officially over, but I'm not quite ready to leave the smooches and sweet-nothings behind quite yet. Like many of our friends, this year we've shifted our romantic celebration to the weekend. We've learned the hard way that being rushed through an overpriced set menu at a crowded restaurant, or scrambling to make a memorable meal at home on a weeknight, is no great recipe for romance.
Although it's not quite as bad as going to a bar on New Year's Eve, trying to find a suitable sip for your sweetheart is perilous at best. I get a headache just thinking about the insipid sea of sickly-sweet Cosmos and cheap Champagne that's floated out in poor Saint Valentine's name each year. Bleh.
Even if you already celebrated your amorous occasion last night, you might fancy a taste of Royal Romance this weekend. According to CocktailDB, this faintly exotic drink won first prize in the British Empire Cocktail Competition of 1934. Curious about which particular liaison might have captured the creator's fancy, I did a little digging.
It turns out that the alliance in question was quite the fashionable one. In September of 1934, England's Prince George, the Duke of Kent, proposed to Princess Marina of Greece and Denmark. According to royal-watchers, the bride was "an accomplished linguist and skillful dressmaker … also widely renowned for her style and beauty." The groom was no slouch, himself. "Cheerful, popular and handsome" Time magazine said of the Duke in reporting his betrothal, tactfully glossing over a social life that would exhaust Bertie Wooster, including a long history of affairs with glittering celebrities, socialites, and entertainers of both genders, and some dabbling in pharmaceutical recreation.
These two glamorous royals made headlines during their brief courtship, and had all London in their thrall in the run-up to the wedding — just the sort of hubbub that leads to the christening of a cocktail. Perhaps the Grand Mariner was a pun on the bride's name, the gin a nod to Jolly Old England. Add some passion fruit juice for its allusions to ardent love, and grenadine for a bridal blush, and voilá: a cocktail worthy of the crown.
Royal Romance
1 1/2oz dry gin
3/4oz Grand Marnier
3/4oz passion fruit juice
grenadine
Shake the gin, Grand Marnier, and juice with ice and strain into a cocktail glass. Drop the grenadine from a bar spoon into the bottom of the glass as a garnish.