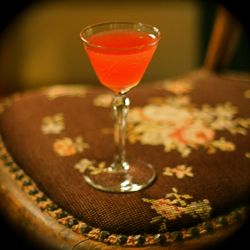 It's been good year for lost ingredients. Obsessive cocktail geeks can now whip up once-impossible drinks, courtesy of newly minted versions of pimento dram, creme de violette, absinthe, and other revivals. And soon, sloe gin will join the ranks of the resurrected, opening up a new chapter of vintage cocktails to modern palates.
Nitpickers will counter that sloe gin was never truly lost. And yes, any well-stocked suburban liquor barn probably has a dusty bottle or two on hand for frat boys looking to whip up a batch of Alabama Slammers. But these so-called sloe gins are no more than low-quality, one-note wonders packed with sugar and artificial fruitiness; many don't even start with a gin base. Truly, they're so far removed from the real thing that most cocktail enthusiasts have considered sloe gin a lost ingredient Stateside, going so far as to concoct their own facsimiles from sour plum infusions or importing bottles from abroad.
But next month, all that will change: One of our favorite gin brands plans to launch their sloe-infused variety — previously available only in the UK and Australia — here in the US.
After what seems like an interminable wait, Plymouth Sloe Gin will make its North American debut in May, starting in bars and (one hopes quickly) moving into limited retail release. Through the good graces of a quick-thinking pal, I've found myself in possession of an exceedingly rare bottle a bit ahead of schedule. And so I did what any sane cocktail geek would do: I rounded up a crew of like-minded drinkers and got shaking.
To get a sense of what we were playing with, we tried a sip of the sloe gin on its own. The Plymouth press materials speak of "sweet cherry and raspberry notes that provide a complimentary mixture of figs, cloves, honey and stewed fruits". But, truthfully, when tasted neat it's hard to discern anything beyond a flavor wholly reminiscent of "the cough-syrup berry" (as one sharped-tongued wag remarked). We all agreed: This is a strong, tart flavor that wants to be mixed, not sipped.
Happily, there are a wealth of sloe gin recipes waiting in the world's cocktail archives; CocktailDB alone boasts more than 90 of them, and every pre-Prohibition collection seems to sport a handful. Fans of bittersweet combinations — of which there were many in attendance at our sloe soirée — should head straight for the widely noted Blackthorn, a 2:1 sloe gin / sweet vermouth mixture stirred with a dash of orange bitters. It's a surprisingly tasty pairing, especially when using a top-notch Italian vermouth.
But the unanimous favorite of the evening came straight out of the venerable Savoy Cocktail Book, a harmonious blend of "five ingredients… downright complicated for the Savoy" (quipped the guy who should know). With Jamaica rum and apricot brandy, the flavors are almost tiki-like. But the sour bite of the lime juice and the dark sweetness of the rum are a perfect foil to balance out the sloe's medicinal qualities.
Millionaire Cocktail (No. 1)
juice of 1 lime
3/4 oz sloe gin
3/4 oz apricot brandy
3/4 oz Jamaican rum
1 dash grenadine
Shake well and strain into cocktail glass.