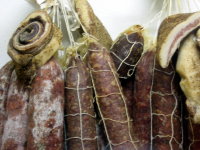 If you've read Bill Buford's Heat, you know about Dario, the Tuscan butcher who taught Mario Batali the arcane mysteries of traditional Italian meat-curing. What you may not know is that Dario also taught Mario's pop, Armandino, much of what he knows about the art of salumi. There's even a Dario namesake salami on the menu at Salumi, Batali Senior's pint-size salumeria near Pioneer Square.
A zillion other bloggers have written about the heady pleasures of Salumi — it seems like dozens of Bay Area folks have trekked to Seattle in the past few weeks, and they all made their dutiful pilgrimage to the altar of pig. And given the breadth of our own ramblngs on the subject over the years, I don't have a whole lot new to report.
But, following our homesick hearts, we found ourselves casting about for lunch options of Wednesday, and for once we were (a) in town during the week and (b) not otherwise occupied during the slender slice of time that Salumi is open for business.
We shuffled in at the end of the lunch rush, amazed to find one lone Muffo sandwich — Salumi's take on the muffaletta — waiting for Cameron. Lucky me, I managed to get the very last trio of meatballs (along with some glorious house-made mozzarella) in my own sandwich. Mindful of our upcoming dinner at Union, we grabbed a table, ate exactly half of our sandwiches, and dutifully wrapped up the leftovers. Resisting the siren song of cured meats is never easy, but we both pratcially whimpered as we shuttled the sandwiches back to the hotel mini-fridge.
Armandino's Salumi
309 3rd Avenue South
Seattle, WA 98104
206.621.8772