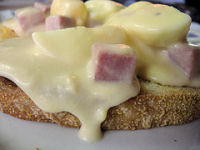 For years, my family's observed a rather lowbrow holiday breakfast tradition: Cubed ham and quartered hard-boiled eggs in a cheddar-infused bechamel sauce, served over toast. It's the kind of impossibly rich dish that should come with the name of a good cardiologist, so it's best left to the "a couple times a year" section of the recipe box.
I'll probably lose all foodie cred when I admit that, originally, this concoction was made with both Spam and Velveeta — the ham and cheddar are relatively modern improvements. We still call it Spam 'n' Eggs for nostalgia's sake, even though no actual spams have been harmed for years. At least that's what I used to be able to say…
It's not an official holiday, but my sister and I are both visiting my folks, and this morning Dad announced that he had a craving for Spam 'n' Eggs. Mom offered to run down to Vons and pick up some ham — we had all the other ingredients on hand — but Dad stopped her short.
"Not ham. Spam."
"Real SPAM?" we all asked in unison.
"Yup."
So we indulged him. And, you know, it wasn't bad. Of course, you could put dog kibble in cheese sauce and it would taste pretty good. Still, unless you're overwhelmed with morbid curiosity, I highly suggest you stick with ham.
Spam 'n' Eggs
6T butter
6T flour
5-6 cups milk
2 cups shredded cheddar cheese
pinch of dry mustard
3/4 pound ham (or 12-oz can Spam Lite, if you must)
6-8 hard-boiled eggs
1 loaf English muffin bread (or other good toasting bread)
Cut ham into 1/3-inch dice, and set aside. Quarter eggs vertically, and set aside.
Melt the butter in a large saucepan over medium heat, until foaming subsides. Sprinkle with the flour, and whisk well and cook until bubbly and whitened. Add 5 cups of milk, and continue to whisk until just below a boil; reduce heat. Continue to stir until thickened to the consistency of pancake batter. Add cheese and mustard, and stir until cheese melts. Thin with more milk, if desired; you want the sauce to be spoonable, but not runny. Adjust seasoning with salt and pepper to taste.
Add the ham to the sauce, and continue to stir until heated through. Reduce heat to low, and set the egg quarters into the sauce, taking care not to dislodge yolks, if possible. Push eggs down into the sauce, and heat through gently.
Meanwhile, toast the bread and keep warm in a towel-lined basket until all slices are toasted. When ready to serve, place two slices of toast on each plate, and spoon the egg-sauce-ham mixture over the top.
ps: Happy birthday to Rocky, my Spam-loving friend.