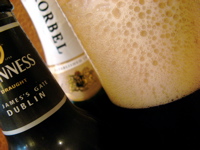 When it comes to kitchen remodels, no news is good news. Our contractor's crew of Irish lads has been rapidly turning the old kitchen into a pile of rubble and debris, and — contrary to our worst fears — there was nothing evil lurking within our 85-year-old house's walls, floors, or ceilings. Let's celebrate!
As we stood in the beer aisle, contemplating which six-pack to buy for our demo crew (so that they can toast a good week's work today, too), Cameron veoted my suggestion of something from The Old Country as being too cliché. But conversations with charming men possessed of lilting brogues leaves me craving a pint of stout, so we put a few Guinness Drafts in the shopping cart. On second thought, seeing as how this was a special occasion, perhaps Champagne would be more apt. So we put a split of bubbly into the cart, too.
Back at home, we faced a serious dilemma: Guinness, or bubbly? Well, why not both…
Black Velvet
Irish stout, preferably Guinness Draft
Sparkling wine
Pour Irish stout into a pilsner or tall glass, to the halfway mark. Top with sparkling wine.