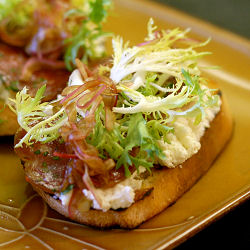 I had a funny conversation last week with a co-worker about the definition of summer. She contended — not entirely without justification — that summer starts on the solstice (June 20) and ends on the equinox (September 22).
With all due respect to the astronomically inclined, the gap between Memorial Day and Labor Day is the time that seems most summery to me. Spring's icons — asparagus, artichokes, peas — are on their way out with the end of the school-year, and tomatoes, peaches, and blackberries are bursting into full swing. By the end of the month, we'll have local corn at the market… a taste of deep summer if there ever was one.
Our One Local Summer meal this week included some old local favorites: a roast Hoffman Farms chicken with herb butter rubbed under the skin, a bottle of Le Printemps rose. We said goodbye to this year's baby artichokes with a simple Tuscan-style preparation from Molto Italiano, and we tossed together a simple orzo-and-garbanzo side, studded with Laura Chenel chevre. Everything but the salt and pepper came from within our local foodshed, and a few bits — the herbs and the citrus — came from our own garden.
While the chicken roasted, we staved off our hunger with this riff on a recipe we'd seen in Food & Wine a few months back. Truthfully, this recipe isn't the most summery combination — you could make it all year 'round, and we loved it so much that I'm sure we will. But being able to pop a few slices of well-oiled artisan bread on the grill at a moment's notice is another sure sign of summer at our house.
Bruschetta with Ricotta and Salami
- adapted from Food & Wine, April 2008
1 cup fresh ricotta cheese
3T extra-virgin olive oil, plus more for brushing
6 thick slices of peasant-style bread (about 1/2-inch thick)


1 clove garlic, whole
1 clove garlic, minced
1/4 small red onion, sliced thin
2T balsamic vinegar
3oz spicy salami (hot sopressata, Spanish chorizo, etc.), sliced thin
1T chopped parsley
2 cups of frisee, tender white and light-green leaves only
Put the ricotta in a fine sieve or a cheesecloth-lined colander, and set the strainer over a bowl. Cover the whole setup with a towel or parchment, and place in the fridge overnight.
The next day, discard the liquid in the bowl. Wipe out the bowl, and combine the ricotta and 1T olive oil; season with salt and pepper to taste.
Toss the red onion slices with the vinegar and set aside.
Preheat a grill or broiler. Brush both sides of each bread slice with olive oil and grill until toasted. Rub the grilled toasts with the whole garlic clove, and set aside. Drain the vinegar from the onions.
Heat the remaining 2T oil in a medium skillet over low heat. Add the sausage, minced garlic, and parsley, and cook until warmed through, about 5 minutes.
Spread the seasoned ricotta on the toasts, then top with the warm sausage mixture. Garnish with the frisee and pickled onions.