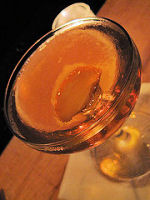 Don't forget: Today's the day to post your champagne-based drinks for Mixology Monday 14!
Our final entry has me stumped. For the life of me, I can't figure out why this very un-British cocktail would have the name it does. I found a reference to the history of Cointreau, which claimed that the one-time "Prince of Wales, the future King Edward VII, [was] a great connoisseur of French gastronomy" and, presumably, French spirits, too. Joe Gilmore at the Savoy invented an identically named (but very different) recipe in honor of the investiture of the current Prince of Wales, Prince Charles. But beyond that, I am at a dead end — if you know more about this drink, I'd love to hear it.
I do know that most recipes call for Triple Sec as the citrus-liqueur component of this drink, but Pegu Club bartenders make it with Benedictine instead, which provides herbal notes that take a bit of the edge off the sweetness of the other ingredients. The end result's a slightly more-complex drink, which I prefer to the original.

Prince of Wales a la Pegu
3/4 oz. Cognac
3/4 oz. Benedictine (in lieu of the traditional Triple Sec)
1 dash Angostura bitters
dry sparkling wine, to fill glass
In a mixing glass or cocktail shaker, stir the Cognac, Benedictine, and bitters with ice until well chilled. Strain into a cocktail glass or champagne coupe. Fill with sparkling wine. Garnish with a wide piece of lemon peel or, alternately, a slice of orange.