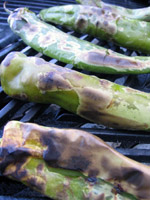 I never met a recipe I didn't want to futz with. I suspect many people suffer from a similar affliction, but I had no idea how bad a case I had until yesterday.
I'm helping a friend test a recipe — which in turn is a mashup of two other recipes — for an article he's writing, so I resolved to follow written directions to a T. Doesn't seem so hard, does it? But it's actually a lot more difficult than I'd imagined. No substiting homemade beans for canned? Damn. No leaving out ingredients that offend my purist sensibilities? Argh. And — because he specifically asked me to keep an eye out for missing steps and oversimplifications — no turning to the original recipes for clarifications on ingredients or descriptions. I think my brain might explode. At least the recipe allowed for roasting peppers on the grill, offering the standard broiler method as an alternate. Woo-hoo!
Are you a tinkerer, too?