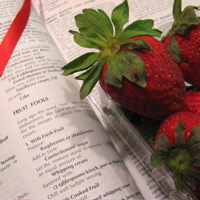 Whew! I made it to the end of April Fools' Day without falling for any crazy practical jokes. Considering how easily I usually walk into pranks, it's a minor miracle. (It probably helps that the only person I saw all day was my sweet guy, whose own brand of humor is more clever than cruel.)
We spent the day getting the downstairs rooms back in shape — no mean feat considering that they were inhabited by the two of us and two dogs for three months, with very limited storage to begin with. We also swapped the spaces that we use for our offices, which required a trip to Home Depot and Best Buy.
Big-box stores make me itch, so after visiting two in a single afternoon, I really felt like we deserved a treat. We were both so exhausted, there wasn't a spare drop of energy for elaborate desserts. But we had a pint of strawberries, and a carton of cream… and a quick perusal of Joy of Cooking turned up an all-too-appropriately named dessert that even a fool could master.
Berry Fool
1 pint strawberries
1T superfine (baker's) sugar
1/2 pint heavy cream
3T ruby port
Rinsed, dry, top, and quarter the berries. Place in a large bowl and sprinkle with the sugar; set aside. Meanwhile, whip the cream with the port until soft peaks form. Stir the sugared berries into the whipped cream, and refrigerate well before serving.