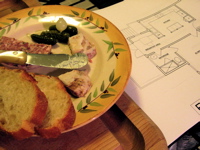 We've been rather neglectful of MWD this week, but please don't think it's because we haven't been playing with our food or eating at some yummy places. And yes, the careful observer will note that our photostream contains shots of L.A. restaurants that we never wrote up. Mea maxima culpa… and I do hope to have time to tackle those posts that are languishing in draft mode — soon.
But I thought you'd like to know that we've been slacking for a good cause: We're in the final throes of planning a for-real kitchen remodel! We hired a contractor this week, after a relatively long vetting process. And we've got a great architect — who we've been abusing since August with our dog-eared magazine clippings and offbeat design ideas — working hard on finalizing floorplans and elevations so that the permit folks will be good and happy.
We spent pretty much the whole weekend (at least the part where we weren't at JoAnn's) shopping for tile and countertops and sinks and faucets and…. you get the point. I promise to try not to bore you with all the gory details, but I'll post now and then when things get interesting.
For now, we're trying to get our downstairs guest suite ready for habitation during the time that the kitchen and bathroom are gutted, and figuring out how to set up a temporary kitchen in the garage workshop. (Good thing we put in a power strip, cabinets, and a countertop, huh? My brilliant husband pointed out that it's basically a mini-galley out there, once we add a countertop convection oven, put away the tools, and give everything a really good scrubdown.)
It's finally happening!