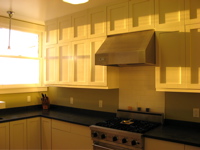 Last week, one of our regular readers asked me if the new kitchen was everything we were hoping for. That's a huge order, isn't it? But, you know, it really IS everything we were hoping for.
Which is not to say that we aren't ready to strangle both our cabinet vendor — who still hasn't delivered the replacement doors (hence, no knobs!) — and our contractor, who left for vacation with about a million little unfinished details on our punch list. And of course there are things we'd do differently.
But even with every caveat I can think of, there's no denying that the new kitchen is both beautiful and functional, and a true pleasure to cook in. The countertops are gorgeous, the light and views are stunning, the storage space is abundant, and the stove is one of the seven wonders of the modern world.
And I am swooning over conveniences that I'm still not sure how we lived without: a garbage disposal, an icemaker, filtered water in the fridge door, and a real range hood — our old ventilation system was an open window and a box fan.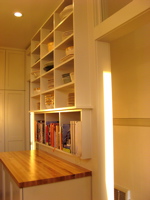 Our old kitchen was bigger — we added the wall with the open cabinets to create a back hall for the house — but I'm not exaggerating when I say it had about 2 feet of usable counters. Now we have three distinct work zones, plus the breakfast room. It's a great two-cook kitchen, and I hope it will be a good small-party space, too.
In many ways, the kitchen in this month's photo tour on Flickr doesn't look dramatically different than it did at the last update, a month ago, but it's barely recognizable from the "before" shots. By this time next month, we should be 100% finished. Keep you fingers crossed, and stay tuned!