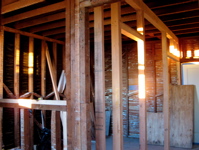 A lot of folks are visiting from Ilva's Show Us Your Kitchens roundup, so I thought I'd post an update of where we stand on the kitchen remodel.
Demolition is entirely done, all of the new framing is complete, and I'd guess the plumbing is about 2/3 finished. We have new waste and vent pipes in all the right places; now we just need supply lines for both water and gas. Electrical work was also due to happen this week, but seems to have not gotten off the ground yet.
The most exciting day so far was Wednesday, when we came home from work to find our new wall! Now, I realize that to most of you, the idea of making a kitchen smaller must seem rather odd, but the rear of our house desperately needed a hallway. The door from the living room opened into the kitchen, as did the master (which is to say, only) bedroom. All four rooms of the house — living, dining, kitchen, and bedroom — were all roughly the same size. In fact the kitchen was the largest quadrant, because it didn't have closets or a fireplace eating up space. By sacrificing ~40 square feet of space, we've made the kitchen more cozy, gained a little separation between cooking and sleeping spaces, and improved the flow of the house significantly.
That's probably more theory than you wanted to know. If you want to see the execution, I've put up a mini-tour of progress so far, over on Flickr.
Oh, and the combat kitchen? It's going quite well. We even made our mac-and-cheese-off entry in our new toaster oven. We aren't fixing anything glamorous, but we're eating pretty well. Cooking's not the hard part, no harder than camping or dorm cooking. No, the real bitch of it all is the cleanup. We've gone almost exclusively to (compostable) paper plates, but the prep utensils and pans are really murder to wash. This week, we've been eating out a lot due to evening plans that kept us out and about. I think we'll try to do some cooking ahead this weekend, for next week. Planning is key — no more whipping something up that sounds tasty at the spur of the moment.
ps: The next installment of Drink of the Week will happen over the weekend.