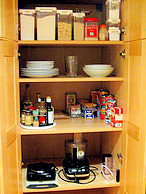 What's your big holiday present this year? A fancy gadget? A new appliance? Maybe a fabulous cookbook? Not to brag, but I think I've got you beat: This year, our Christmas present to each other is a full-fledged kitchen remodel.
We knew the second we stepped foot in the house that's now ours — and saw the utter disaster that was the kitchen — that a gut-job was in order. (If you clicked that link, I feel compelled to tell you that was the previous owners' idea of tidying up for an open house.) But for the last 18 months, we've had more pressing remodel issues to tackle, and we also spent nearly 6 months working with a very talented architect to get all of our 'must-have' and 'really-want' items into one room while staying reasonably close to our original budget. But it's gonna happen, boys and girls — it's gonna happen soon.
January 2 is our scheduled start date, the day the big Irish guys show up with sledgehammers and dust masks and a big-ass Dumpster. And since this project includes not just our kitchen but also our master bathroom, we're movin' on down to the basement. Happily, like many SF houses, our "basement" is really the ground floor of our house, opening onto the backyard.
For the last year and a half, this space has served as our guest suite, home office, and music studio. Over the last month, we've worked with our kitchen contractor to turn part of it into our new laundry room and craft workshop (finally — a place for all those canning jars and infusion bottles!), a space that will serve as our makeshift kitchen during the remodel. Hence, the photo above: Our pantry-china cabinet-appliance garage-bar.
As you might imagine, I'm coping with the chaos by writing lists: A list of appliances we'll need (toaster oven, yes. rice cooker, yes. coffeepot, yes. ice-cream maker? not so much), a list of one-dish suppers we can make in our screwball cafe… and another list of nearby restaurants that deliver.
I keep telling myself that our temporary home is larger than many apartments where we've lived over the years, and (sadly) that we actually have more counter space in the laundry room than we had in the old kitchen. My first college apartment lacked a kitchen entirely, and yet I cooked quite respectably — even for parties — using a microwave and a hotplate, washing dishes in the tub. Surely I can do at least as well with my current set of skills and resources. If all else fails, I'll remember my mantra: "It's only temporary."
In addition to the contents of the server closet cabinet above, we'll also have our gas grill on the deck, an incredibly expensive toaster oven, a coffee maker, and (temporarily) a big washtub in the bathroom — the kind you see in laundry rooms, but right in the shower.