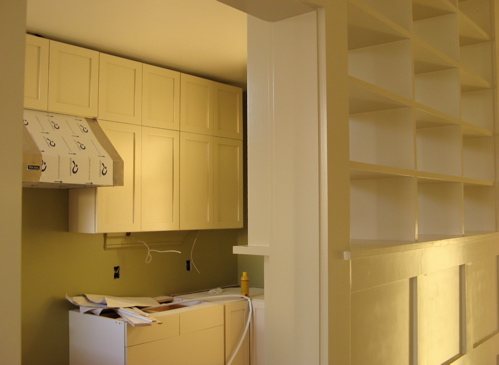 Can you believe it's been 2 months since we kicked off our kitchen remodel?
There's so much new since the last update — cabinets, moulding and trim, the range hood, gallons of paint, and a LOT of shopping — I hardly know where to start. In fact, if a cabinet snafu hadn't delayed progress by 10 days, I might even be telling you that we were done!
Even so, we're really getting down to the home stretch here. Our contractor told us this morning that he was really gunning to get everything done next week. It's a lofty goal, but if he really kicks it into high gear, it could happen.
I'm happy to report that our kitchen feels remarkably true to the style and scale of the house, and that a couple of little signature pieces have turned out — dare I say it? — even better than we'd hoped. We have a gorgeous storage/seating bench in the breakfast room that our contractor built, a stunning set of cubbies over the 'lab bench' that the contractor's foreman crafted to our architect's specs, and a new "not-window" that mirrors perfectly the size, shape, and structure of its original twin. I find little things to gripe about, but all in all, I'm tickled pink, pleased as punch… and about a dozen other clichés, too.
Tomorrow, our cool stone-countertop guy will start installing our worksurfaces (honed dark slate on most cabinets, with butcherblock on the lab bench — thanks for asking!). As soon as that's done, the tile backsplashes go in, the transom glass gets affixed, the fixtures get hooked up, and the appliances get installed…
Oh-boy-oh-boy-oh-boy.
What's that…? More pictures? Come on, now — I wouldn't let you down like that! You gotta know there's another snapshot tour on Flickr, just like last time.