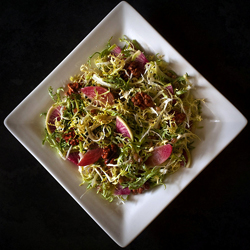 Hungry Mother always seemed like the kind of place we'd enjoy: local and sustainable sourcing, Southern-inspired food, and a great cocktail list. It's been on our short list of places to try for years, and on a recent trip to Boston, we finally made it there.
It's easy to win hearts and minds with menu items like pimento cheese, bourbon-braised pork shoulder, and cheddar grits with house-made tasso, not to mention winning cocktails like the No. 43 (rye, tawny port, maple syrup, and bitters). But amid all of these decadent treats was a salad that sounded so tame that I actually felt a little boring for ordering it.
The buttermilk-chive dressing was what pushed me over the edge, luring me away from other options. That, I suppose, and the pecans, which I love but can't get locally here in Northern California. What I hadn't expected was that the farro — a humble, wheat-like grain — would be the star of the show, bringing a nutty depth to the dish that made it substantial enough to stand up to the rich main courses that followed.
I woke up the next morning dreaming about this salad, knowing I wanted to recreate it when we got home. I realized that with a few adjustments — walnuts for pecans, wheatberries for farro — I could make it entirely from locally sourced ingredients, making it a perfect candidate for our first Dark Days Eat Local Challenge meal of the winter.
Don't be put off by the little ingredient-prep recipes that go into this dish; none are particularly difficult or time-consuming, and all of the parts can be stored for future use. And be sure that you're picking through and using tender frisée leaves, as more-mature ones are unpleasantly grassy and spiky.
Autumn Salad with Wheatberries
- inspired by Hungry Mother; serves 2
6 cups loosely packed tender frisée leaves
3 to 4T buttermilk dressing
1/2 cup cooked wheatberries
roasted beet wedges equal to 1 large beet (or 2 to 3 small beets)
1 watermelon radish (or 3 to 5 small radishes), sliced thinly and cut into quarter-rounds
6 to 8 sweet-savory walnut halves
Toss all ingredients together, and serve on chilled shallow bowls or rimmed plates.
- Roasted Beets
Preheat the oven to 375°F. Scrub the beets and trim off tops and tails. Place in a baking dish about as deep as the beets are tall, and add 1/4 inch of water. Cover tightly with foil and bake until the beets are barely tender through (run a toothpick or cake tester through the center), about 45 minutes for large beets, 20 to 30 minutes for smaller ones. Remove from the oven and let sit, covered, for 5 more minutes. Uncover the beets, rub off the skin, and trim the tops and tails again. Cut into wedges and season to taste with salt. If not using within an hour or so, toss with a bit of olive oil; they will keep a few days in the fridge if well covered.
- Cooked Wheatberries
Note: For the 1/2 cup cooked wheatberries the salad requires, you'll need 1/4 cup uncooked. However, it's hard to cook less than 1 cup at a time. Leftovers freeze well, and they make a great base for grain salads, or in place of cooked rice in soups.
Soak the wheatberries overnight, or for at least a few hours. Bring the berries to a boil in a large saucepan of salted water. Reduce heat to a slow simmer and cook until tender but not blown out, about 2 hours. (Depending on freshness, wheat variety, and soaking time, this can take as little as 45 minutes or up to 3 hours.) When cooked, drain the berries and set aside.
- Buttermilk-Green Garlic Dressing
1/4 cup sour cream or plain yogurt
1/4 cup buttermilk
1/4 cup mayonnaise
1 tsp Champagne vinegar (or white-wine vinegar)
1 stalk green garlic, minced, or 1T minced chives
coarse-ground black pepper, to taste
salt, to taste
Mix all ingredients in a bowl, and refrigerate for at least an hour.
- Sweet-Savory Walnuts or Pecans
adapted from Epicurious
2 tsp sugar
1/4 tsp salt
1/4 tsp paprika
1T egg white
1 cup walnut or pecan halves (about 1/4 pound)
Preheat oven to 350°F. Lightly oil a rimmed cookie sheet, or line it with parchment.
Whisk together sugar, salt, and paprika in a small bowl. Whisk egg white in a medium bowl until frothy, then stir in nuts, mixing until evenly coated with egg white. Add sugar mixture and toss to coat.
Spread the nuts in the pan in a single layer. Bake, stirring once or twice, until dry and well toasted, about 20 minutes. Loosen nuts from pan, then cool completely.
---
Farmers and food artisans who created the ingredients for this week's meal: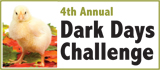 Massa Organics, Hamilton City: wheatberries
Star Route, Bolinas: frisée
Mariquita Farm, Watsonville: beets, watermelon radish
Glashoff, Fairfield: walnuts
Clover Organic, Petaluma: buttermilk, yogurt
Eatwell Farm, Dixon: Pastured eggs (for mayo)
Bariani, Sacramento: olive oil
Katz, Napa: Champagne vinegar
Knoll Farms, Brentwood: green garlic
Guisto's Vita-Grain, South San Francisco: sea salt
Range Brothers, Capay Valley: pork chop
Exemptions: sugar, peppercorns