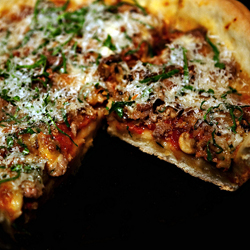 I find it fascinating how some recipes languish in my clippings folder for months, years even, before I set my mind to trying them. It's not that they don't sound appealing — clearly they do, or I wouldn't have bothered putting them aside — but maybe the moment's not right, the ingredients aren't at hand, the quantities are best saved for a party.
Not every recipe gathers dust, though. Some send me sprinting to the kitchen as soon as I read them. And our friends Michael and Jen's deep-dish pizza is one that I absolutely had to try right away.
I saw the original version of the recipe on Jen's blog, Last Night's Dinner, almost a year ago. We made it ourselves fairly soon thereafter, and we liked it. But we're rather set in our pizza-making ways here, generally leaning toward thin-crust Italian-style pies when we decide to go the home-pizzeria route. Seeing Jen's photos of Mike's latest tweaks to his deep-dish recipe reminded me that we have a giant stash of Italian sausage waiting in our freezer, and got me thinking how well it would complement a sauce made from last summer's home-grown tomatoes for this week's Dark Days Challenge meal.
We gave Mike's new edition a try — actually two tries in one week, that's how much we like it — and weren't surprised that it's even better than the original pie. I made a few tweaks to the crust to adjust it to our taste; unfortunately, these changes turn Mike's relatively painless recipe into a process that's less convenient for weeknight preparation, so you may very well prefer his streamlined version. I often like to make and rise my pizza dough after dinner on one night,  then tackle the second rise on the next. If your schedule's a little more compressed, you can quick-rise the dough — as Mike's master recipe does — and the end result will still be very, very good.
Deep-Dish Pizza
Adapted from Last Night's Dinner, with crust tips from American Pie
- Crust
2 tsp active dry yeast
1 tsp sugar
1C warm water
3T unsalted butter, softened
1tsp table salt or 2tsp kosher salt
3C unbleached AP flour [15oz]
Grease a medium bowl with olive oil and set aside. In the bowl of a stand mixer fitted with a dough hook, combine the yeast, sugar, butter, and water; let sit 5 minutes or until frothy. Add the flour and salt, and combine at low speed. Increase speed to medium and mix until the dough pulls away from the sides of the bowl and crawls up the dough hook, about 1 minute. Add 1 to 2 tablespoons water if dough is dry; add 1 to 2 tablespoons flour if dough is wet. Continue to knead (in the mixer, or by hand) until dough is silky smooth and passes the windowpane test.
Form the dough into a ball and place in the oiled bowl, turning to coat all sides of the dough ball with oil. Cover with plastic wrap and let rise until it doubles in bulk, about an hour. Punch down, reshape, and let rise again (covered) in the refrigerator, at least 2 hours or overnight. Bring the dough back to room temperature 2 hours before you plan to roll it out. (You can also use the dough immediately after the first rise, or even let it complete the second rise at room temperature, but the texture and taste will be better if you proceed with the second, slower rise.)
- Sauce
1T extra-virgin olive oil
1 small onion, peeled and diced
2 cloves fresh garlic, peeled and sliced
2T shredded carrot
1-1/2 T chopped fresh thyme
a 28oz can of whole peeled tomatoes, crushed with your hands
1/4 C red wine or port
salt, to taste
In a medium saucepan, heat olive oil over medium heat. Add onion and a pinch of salt; sauté until soft and golden, then stir in garlic and cook until soft. Add carrot and thyme and continue cooking until the carrot is soft.
Add tomatoes and their juice, plus wine. Lower the heat and cook until the sauce is thick, about 30 minutes, seasoning to taste as you go.
- Finishing
1 recipe crust
1 recipe sauce
1/2 lb Italian sausage
2T olive oil
3/4 to 1 pound button mushrooms, quartered
8 oz mozzarella (if fresh, torn into 1-inch pieces; if drier, shredded — we like half and half)
1/2 cup freshly grated hard cheese (such as Dry Jack or Parmesan)
1/2 cup fresh basil or spinach leaves, chiffonade
Preheat the oven to 400°F.
Heat a 12-inch cast-iron skillet on the stove over medium heat. Add 1T olive oil and crumble Italian sausage into the skillet. Brown, adding more olive oil if needed, until cooked through. Using a slotted spoon, remove the sausage to a plate lined with paper towels, leaving the fat in the skillet. (If your sausage is on the fatty side, you might remove some of the fat, but be sure to leave the skillet well greased.)
While sausage is cooking, saute the mushrooms in a large skillet: Heat 1T olive oil over medium heat, then add the mushrooms and saute until they lose their liquid. Salt if desired, and set aside.
Pat or roll the room-temperature dough into a circle about 12 inches in diameter. Let rest for 5 minutes — this will help keep the crust from shrinking — then transfer it to the skillet. Press dough down into bottom of skillet and partway up the sides. Drizzle a little olive oil over the crust, then layer the sauce, sausage, mushrooms, and mozzarella. Bake on bottom rack of oven for 30 minutes. Start checking the pizza for doneness; you want the pizza crust to be golden brown, and the toppings to be just starting to brown. Remove pizza from oven and top with grated cheese and basil.
---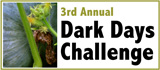 Farmers and food artisans who created the ingredients for this week's meal:
Spring Hill Cheese Company, Petaluma: butter
Guisto's Vita-Grain, South San Francisco: sea salt, flour
Bariani, Sacramento: Olive oil
Catalán Family Farm, Hollister: onion
Iacopi, Half Moon Bay: garlic
Ottimino, Occidental: Rancho Bello Zinfandel (for sauce)
Shasta Valley Farm, Gazelle (via Live Culture): Mangalitsa Italian sausage
Far West Fungi, Moss Landing: button mushrooms
Belfiore Cheese Company, Berkeley: mozzarella
Vella Cheese, Sonoma: dry Jack cheese
Mariquita Farm, Watsonville: spinach
Anchor Brewing, San Francisco: beer
…and our own homegrown carrots, tomatoes, thyme
exemptions: yeast, sugar