I used to work with a woman who brought in a sleeve of bagels, a tub of cream cheese, and a carton of orange juice every Monday. She parked them in the office fridge and then religiously ate the identical breakfast every morning, for weeks, months, years.
Just the memory of it makes me a bit twitchy, but also more than a little envious — think of how much time I could save if I could be content with monotony! But though I crave familiarity as much as the next person, I could never be one of those people who eats the same thing over and over, day in and day out. Heck, I can barely stand to repeat a dinner menu more than monthly.
So you can imagine my surprise when I found myself craving — and then making — the same salad three times in two weeks. Originally, the recipe appealed because I found myself the proud owner of three heads of escarole, courtesy of our latest Mariquita Farm mystery vegetable box. I'd intended to use this broad-leafed chicory in a variety of recipes: in Zuni bread salad, in brothy Italian sausage soup, and sauteed simply and scattered with pine nuts. But once I'd tasted this salad, I couldn't stop making it.

It bears more than a passing resemblance to salade lyonnaise – that heavenly mixture of pleasantly bitter frisée and thick lardons of bacon, crowned with a poached egg — but requires a lot less fuss. You can boil the eggs and fry the bacon hours ahead of time, then whip everything together when you're ready to serve. And it's interesting enough to hold its own, or sit happily alongside a simple main course like the roast chicken we made for this week's Dark Days Challenge dinner.
Warm Escarole Salad
- adapted from Bon Appétit
1 small head of escarole, torn into bite-size pieces (about 4 cups)
1 large slice bacon
1T extra-virgin olive oil
1T balsamic vinegar
3T finely chopped shallot
1 hard-boiled egg, diced
Over medium heat, cook the bacon until just crisp. Remove to paper towels, reserving the bacon drippings in the skillet. Chop bacon and set aside.
In a small bowl, whisk olive oil and vinegar together. Reheat the bacon drippings in the skillet; add shallots and sauté until slightly softened but not browned. Add olive oil mixture and stir until heated through. Season to taste with salt and pepper.
Divide escarole between two plates, and drizzle warm vinaigrette over the top. Sprinkle with egg and bacon, and serve warm.
---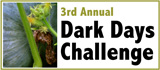 Farmers and food artisans who created the ingredients for this week's meal:
Mariquita Farm, Watsonville: escarole
Shasta Valley Farm, Gazelle (via Live Culture): bacon
Bariani, Sacramento: olive oil & vinegar
Dirty Girl Produce, Santa Cruz: shallot
Soul Food Farm, Vacaville: eggs and chicken
Guisto's Vita-Grain, South San Francisco: sea salt
exemptions: black pepper