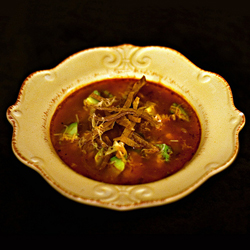 Yes, yes — soup again. I'd really hoped to have something better to share by the end of the week, but I'm still fighting the after-effects of a particularly nasty cold. Making dinner is doubly complicated: Not only do I not feel much like cooking, but I often have to trick myself into eating something I'm craving before my appetite disappears again.
Early last week, the only thing I could really get worked up about making was tortilla soup. We're still at least a month away from local avocados at our farmers market, but I couldn't imagine this classic soup without them. Sometimes it's worth it, I rationalized, to make an exception for an ingredient that has no reasonable local alternative.
As luck would have it, Cameron found semi-local organic avocados at our co-op — California is better than Mexico, right? And we have plenty of local tomatoes in the pantry, so I didn't have to venture too far off the local path to satisfy my sick-kid whims.
Sopa Azteca / Tortilla Soup
- adapted from Mexican Everyday
2 cups diced tomatoes in juice
2T ground pasilla or ancho chile
2T chicken fat (or mild vegetable oil)
3 garlic cloves, peeled
2 quarts chicken broth
1 large sprig epazote (optional)
2-1/2 cups cooked chicken, chopped or shredded
1 large ripe avocado, pitted, skinned, and cubed
6oz (about 1-1/2 cups) shredded mild cheese, such as asadero, Jack, etc.
6oz (about 4 cups) broken tortilla chips
1 large lime, cut into 6 wedges
Preheat the broiler. Drain the tomatoes, reserving the juice, and place on a parchment-lined rimmed cookie sheet. Broil the tomatoes until beginning to blacken; turn with a spatula and cook a little longer on the other side, until toasted and aromatic. Remove from oven and set aside.
Melt the chicken fat in a medium saucepan over medium-high heat. Add the onion and garlic and saute until softened. Add the ground chile and cook for another minute or two; be careful not to burn the chile — add water and/or adjust the heat if you smell it getting too hot. Remove the vegetables from the pan with a slotted spoon, leaving behind as much of the fat as possible, and transfer to the blender. Process until smooth, adding only as much of the tomato juice as you need to get a puree going.
Return the pan with the fat to medium-high heat. When hot, add the puree and stir constantly until the puree is thickened to a paste. Puree the roasted tomatoes and the reserved tomato juice, and add them to the pot along with the broth and the epazote. Bring the soup just to a boil, then reduce heat to medium-low and simmer for 15 minutes. Taste and season with salt. Add the chicken to the simmering broth and heat through.
Divide the avocado, cheese, and tortilla chips between four individual bowls. Serve the lime wedges separately at the table.
---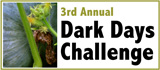 Farmers and food artisans who created the ingredients for this week's meal:
Tierra Vegetables, Santa Rosa: chile powder and garlic
Soul Food Farm, Vacaville: chicken
Spring Hill Cheese Company, Petaluma: Jack cheese
Primavera, Sonoma: Corn tortillas (for homemade tortilla strips)
Mariquita Farm, Watsonville: limes
…and our own home-canned chicken stock and tomatoes, and homegrown epazote
Exemption: avocado (California organic)