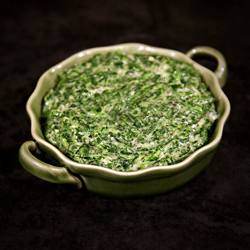 We hardly ever go out for big holidays like Valentine's Day. It just seems so fraught, in so many ways. Somehow you always end up paying through the nose for a prix-fixe menu full of things that really aren't what you'd want to order. And expectations are so high — not only because it's everyone's Special Night, but because, hey, you walked through fire to get that prime 8pm reservation — that there's hardly any way a restaurant could rise to the occasion, much less impress.
So for as long as I can remember, we've chosen to stay in and cook ourselves a special meal. This year, we both decided we wanted a classic steakhouse dinner: A big, crisp salad with chunky bleu cheese dressing, a nice grilled ribeye big enough to share, a giant baked potato with all the fixins, a luscious ramekin of creamed spinach, and a special-occasion bottle of red wine.
With a little careful shopping, we managed to combine our romantic Valentine's Day dinner for two with this week's Dark Days Challenge meal — a wonderful match, if I do say so. Better still, we got to spend our evening cooking together, rather than circling endlessly looking for parking and jostling for a harried waiter's attention.
Steakhouse-Style Creamed Spinach
– serves 2
10oz fresh spinach
3T butter (divided use)
3T all-purpose flour
2T diced onion
1 small bay leaf
1 whole clove
2 C whole milk
pinch of nutmeg
Blanch spinach in large pot of boiling, well-salted water just until tender. Drain, then cool the spinach in a bowl filled with ice water. Drain well, then roll up spinach in kitchen towel and squeeze out as much liquid as possible. Transfer spinach to food processor and chop.
Melt 2T butter in skillet over medium heat. Add flour and stir until light golden. Stir in onion, bay leaf, and clove. Whisk in milk, stirring until mixture boils and thickens, about 10 minutes. Reduce heat to low and simmer, whisking frequently, until sauce is very thick. Remove bay leaf and clove, and add a pinch of nutmeg.
Add spinach to warm sauce. Simmer over low heat until spinach is heated through, stirring often. When ready to serve, stir in remaining tablespoon of butter, and season to taste with salt and pepper.
---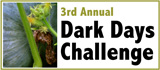 Farmers and food artisans who created the ingredients for this week's meal:
Mariquita Farm, Watsonville: spinach
Spring Hill Cheese Company, Petaluma: butter
Guisto's Vita-Grain, South San Francisco: sea salt, flour
Catalán Family Farm, Hollister: onion
Claravale Farm, Paicines: Raw milk
Little Organic Farm, Marin: potatoes
Clover Organic, Petaluma: sour cream
Prather Ranch, MacDoel: ribeye
Ottimino, Occidental: Rancho Bello Zinfandel
Star Route, Bolinas: Little Gem romaine lettuces
Point Reyes Farmstead Cheese, Pt. Reyes Station: Bleu cheese
…and our own homegrown bay and radishes
Exemptions: pepper, clove, nutmeg