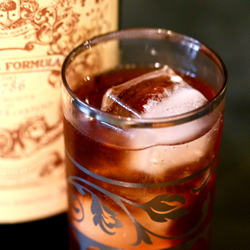 After going to all that trouble to find our favorite sweet vermouths, it seems only fitting for this week's drink to highlight vermouth's strengths. So many recipes that call for sweet vermouth use just a splash, or drown its subtleties under a lot of strong liquor. But the Americano — essentially a highball Negroni, minus the gin — takes advantage of both vermouth's sweetness as a foil and its bitterness as a complement to the drink's other main ingredient: Campari.
Not surprisingly, Campari's distinctively bitter bite pairs best with a less-herbal sweet vermouth. (Monseiur Prat, your services will not be required this evening.) Most recipes call for a 1:1 ratio of Campari to sweet vermouth, but I like my Americanos — and my Negronis, for that matter — on the wetter side. Especially when using a specialty brand like Carpano Antica, this slight imbalance helps the vermouth emerge from Campari's assertive shadow. This is definitely one of those times to use the Cinzano, if you have it. Its sweetness isn't as problematic here, and actually helps balance the bitterness.
A tall, cool drink may seem an odd choice for December, but consider its merits: The color's a festive red, and the flavor's sassy enough to hold its own alongside rich holiday hors d'oeuvres. With seltzer's sparkle and a relatively low alcohol content, the Americano makes a savvy choice in a season that's often filled with back-to-back parties. There aren't any tricky measurements to remember, and the Americano's strength is infinitely adaptable to the drinker's taste simply by adjusting the spirit-to-soda ratio. In short, it's the platonic cocktail-party option, a seasonal spritzer extraordinaire.
Americano
1 oz sweet vermouth
3/4 oz Campari
soda water
lemon twist (optional)
Add the vermouth and Campari to an ice-filled highball or rocks glass. Top with soda water and stir to combine. Garnish with a lemon twist, if desired.