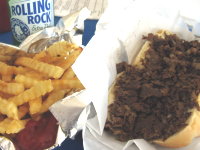 We found our friend Carla sitting on a park bench outside Madison Valley's third — and newest — French eatery, Saint Germain. She told us the manager said he should have a table for us in about 30 minutes — a perfect chance to see what was new in our old 'hood.
We strolled up Madison, checking out the mommy brigade at Essential, browsing window displays in all the same old shops, strolling around the back past the pocket park, and stopping to admire the vintage-modern design of one of the bungalows on Arthur Place.
As our half-hour ended, we ambled back to le St. G and inquired about the table, noticing that none of the occupants of the bistro's (admittedly few) tables looked like they had any intention of leaving. The manager sniffed at Carla with a brusque "I have no idea when I can seat you" before blazing past us to fawn on someone else. Oh…kay.
"Cheesesteaks?" said Cameron, as we walked back out to the sidewalk. "Oh, yeah!" we replied, and piled into our rented PT Cruiser.
As we pulled up into a Doris Day parking spot out front of The Fev, Carla confessed from the back seat that she'd never had a cheesesteak. What!? Oh, well… now we know why we had such merde luck — this is obviously fate.
We ordered cheesesteaks, beers and crinkle fries, and sat at the counter watching the cooks dish up food to other customers. We caught up on local gossip as the TV blared images of Terrell Owens issuing a series of bizarre suicide denials… and all was right with the world. Who needs francais when you've got the Fevre?
Philadelphia Fevre
2332 E. Madison Street
Seattle, WA 98112
206.323.1000