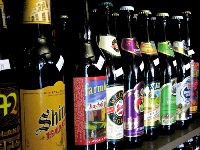 Girls, the next time your man (of any gender) gives you the tiniest bit of lip about shopping excursions worth the name — and I mean the kind that require provisions and a Sherpa — you just take Medea Jones' advice. Saddle him up for a field trip like the one we did last Saturday.
Start at The City Beer Store, a new-ish spot down on Fabulous Folsom: Less Scummy, More Yummy! (and that one's a Medea Jones original, sealed with a kiss, lovey, so remember that you read it here first). Your faithful correspondent has previously pined on these pages for the bodacious Seattle beer scene and the absolutely fab Bottleworks. Well, color me amber with glee!!! City Beer is too cute for words and it's just jam-packed with little and big bottles of malty joy, all begging to be taken home. Everything is sold as singles, and the boys there encourage experimentation. Not like that, presh!!! I mean you get a discount if you mix and match your purchases. Love the funky concrete loft decor, (Ed. no, really, it's a converted live-work loft) and the three taps — soon to be five — pouring draught beer. It's a store! It's a bar! It's a store and a bar!
Pause! Breathe! Wave! Blow kisses! Touch the pearls for sincerity! Wave!
On to the next destination, the gritty, downmarket BevMo on Bayshore for a little atmosphere and some things that a girl just needs…like a bottle of Clear Creek Pear Brandy for Falling Leaves and a shopping cart full of wine! Special to Mr. Windbreaker Man, lashing four one-gallon jugs of Gallo into the milk crate on the back of your powder-blue moped: Those are just the weekly rations, aren't they? Call me. We must party.
Where next? Why, Blackwell's Wine & Sprits in The Avenues! Now, there was a time when I'd never venture west of Park Presidio unless it was for a really hot pickup roller derby match. But not any more, chickadees! A frantic cross-country quest for Carpano Antica at the end of September put paid to that. Cue scene from A Nightmare on Booze Street. Yours Truly is on the mobile with who-ever:
"Um, HI! I'm looking for a bottle of Carpano Antica. Do you have it?"
"Yes, I'll wait."
"Hi! I'm looking for a bottle of Carpano Antica?"
"Carpano Antica."
"It's a kind of vermouth, I think."
"No, I don't know what you do with it, honey, but I hope I'll find out!"
"Well, my friend said if I showed up with a bottle he'd make it worth my while."
"Yes! Ha ha! An offer you can't refuse!"
"4-1-5…Wait, why do you need my telephone number?"
"A-N-T-I-C-A."
"V-E-R-M-O-U…oh, never mind!"
But then I found Blackwell's, way-y-y-y-y out on Geary, where Gary and Tristan simply saved my life. So, zip zip zip and we're back to the present, or at least the more recent past, when we visited again. Tristan recommended some wines for when the spirit is willing but the pocketbook is weak: very lovely, very French. I went all wobbly in the knees again on beholding the wall of booze. I'm on a complete bourbon kick these days and honestly, I'm stacking the bottles sideways in the closet, my foil-wrapped cherry bon-bons. I screwed up my courage and limited myself to a bottle of Bulleit (very chic on the custom cocktail circuit — mixes well, but bo-ring alone…. OOPS! Did I say that?), and one of the 15-year-old Pappy Van Winkle, which is simply impossible to find but is my Favorite Bourbon Of All Time, aside from the Sun King, of course.
There! A plan for a happy Saturday! I'm exhausted just writing about it. Mitzi, fetch the English cucumber slices and fill the bath with raita. I must regain my strength.
Love and kisses,
Miss Thing, Medea Jones
The City Beer Store
1168 Folsom Street
San Francisco, CA 94103
(415) 503-1033
BevMo Bayshore
201 Bayshore Boulevard
San Francisco, CA 94124
(415) 648-1233
Blackwell's Wines & Spirits
5620 Geary Boulevard (between 20th and 21st)
San Francisco, CA 94121
(415)386-9463