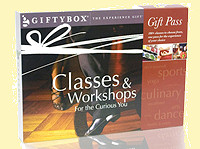 Still searching for the perfect holiday gift? I've got a few ideas for you that I guarantee won't just collect dust, or get relegated to the re-gifting shelf.
First off, a cool little idea called Giftybox. The Classes & Workshop Giftybox ($49) includes a pass to a workshop — including food- and drink-related classes at Seattle's Culinary Communion and San Francisco's Compassionate Cooks, among others across the country — plus nice discounts at five other locations of the recipient's choice.
If you've got a better handle on your giftee's tastes, you might opt instead for the Wine Tour & Tasting Giftybox ($59), with options for California, Washington, Oregon, New York and other wine-producing regions. With this box, your lucky friend gets a gift pass for a winery tour & tasting of her choice, including a bottle of wine, plus tastings and discounts at 5 additional wineries in the region.
You can order either Giftybox as late as Tuesday morning (9am PST) to receive it by the 21st, via 2-day FedEx… plenty of time to wrap it up and sneak it under the tree.
If neither of these presents strikes your fancy, might I humbly suggest a gift that combines the warm, fuzzy glow of altruism with the dream-inducing rush of a lottery ticket? I'm sure you've already bought plenty of tickets for the Menu for Hope raffle — we've raised more than $25,000 already!! — but consider buying a handful for your friends and family.
A ticket makes a nice stocking-stuffer: Pick out a prize that suits your giftee's personality, print out the page from the donor's site with a note explaining you've bought a ticket on their behalf, and tuck it into a pretty envelope. (Sam explains it all much better at the bottom of this post.)
There are so many great prizes up for grabs, and some of them (not naming any names, ahem!) don't have very many bids at all… so your odds of winning are incredibly good.