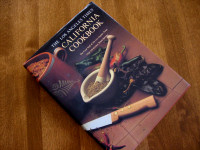 Amid the press flurry surrounding the 75th Anniversary Joy of Cooking's debut, the NY Times published a nicely written piece about other classic cookbooks that stand the test of time. I haven't ever used any of the books they mentioned, but the story did put me in mind of the classics that I do use.
Around our house, the go-to vintage book — in addition to a 1961 edition of Joy and my grandma's 1940s-era Better Homes and Gardens Cookbook — is The Los Angeles Times California Cookbook, published in 1981. I cooked out of my mom's copy when I lived at home, and — many years later — she gifted me with a copy.
I use the California Cookbook at least once a month, mostly for recipes that are a little too West Coast-centric for Joy and the other oldies, but too old-fashioned or boring for Epicurious. Browsing through this collection of 650+ recipes from the paper's archives, it doesn't take long to stumble across dishes from one-time celebrities — Mahalia Jackson, Lawrence Welk, Polly Bergen — and popular restaurants of yore. (Remember The Velvet Turtle? The Hungry Tiger?) Each recipe has a little piece of marginalia that introduces its source, adding a bit of backstory and flair.
Of all the dog-eared pages in my copy, this recipe's the one I like best. The green pepper in the sauce makes it very different from my usual recipe for marinara, but that's one of the reasons I like it.
Little Joe's Meatballs
1 pound ground beef
1/2 pound ground pork
1/2 pound ground veal
1 cup chopped onions
1 clove garlic, minced
1/3 cup grated Parmesan
1 cup fine dry breadcrumbs
4 eggs
1/4 cup chopped parsley
pinch of oregano
1 tsp. salt
1/2 tsp. black pepper
—
1/4 cup oil, for frying
Spaghetti Sauce (following recipe)
Combine all ingredients and mix well. Form into 1-1/2-inch balls. Heat oil in a large skillet, and add meatballs. Cook until browned, then drain. Add meatballs to spaghetti sauce during last 30 minutes of cooking.
Spaghetti Sauce
1 medium onion, minced
2 T minced green pepper
1 stalk celery, minced
1 clove garlic, minced
3 T oil
1 can (1# 12oz) whole tomatoes, chopped
1 can (1# 12oz) tomato puree
1 T crushed dried basil
1 tsp. crushed dried oregano
1 bay leaf
1/2 cup dry red wine
1 cup water
2 tsp. salt
1/2 tsp. black pepper
2 T grated Parmesan
Cook onion, green pepper, celery, and garlic in oil until tender. Add tomatoes and their liquid, tomato puree, and herbs, and simmer 1 hour, stirring often. Add wine, water, salt and pepper, and simmer 30 minutes. Add meatballs, and simmer 30 minutes more. If sauce is too thick, add more water. When sauce is cooked, add cheese and mix well. Serve over spaghetti.