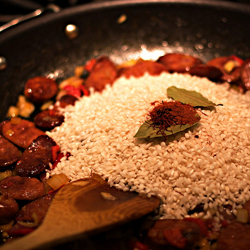 Daylight Saving Time arrived this week, and with the longer days come the final few nights of the Dark Days Challenge. We're also deep into the second full week of our "no new meat" freezer clean-out plan, which is going remarkably well.
Work's been keeping us both insanely busy, so it's a treat to be able to eat a home-cooked meal even on the nights when we don't make it home until well after dark. And, as a side benefit, we're finally able to see our freezer shelves again.
This week's dinners included successful renditions of cassoulet, spaghetti and meatballs, and posole verde. But lest you think it's been an endless buffet of effortless delights, I'll admit that one night's dinner — reputedly lasagne — resembled nothing more than a watery bowl of soggy, sausage-flecked dough. (Not sure what happened there; baked pasta always freezes well… or at least always has in the past.) It didn't taste bad, but it certainly doesn't count as one of the successes.
As nice as it is to work our way down the freezer inventory and pull a ready-to-heat meal out of storage, it does feel a little anticlimactic. After a few days of thaw-and-reheat, I begin to miss the prep, not to mention the actual cooking. Happily, most of the stuff in the freezer is bits and pieces, not entire prepared dishes, which means that there are plenty of chances to create a dish out of old leftovers or combine assorted remnants with a fresh ingredients to make a dinner that's more than the sum of its parts.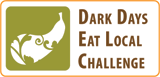 Our favorite meal this week: A simple paella that used up some orphaned chorizo, leftover roast chicken, and red pepper strips we froze last summer. It's not the most authentic Spanish dish, but it's easy enough to get on the table for a midweek meal, and undeniably delicious. And, as an added bonus, we got to sample the season's first fava beans — a little dash of spring in our final Dark Days meal. With the exception of the pimentón and the saffron, everything came from within our 100-mile radius.
When it comes to paella, the sausage you want is firm Spanish chorizo — the refrigerated sort that's a similar texture to andouille, definitely not the soft Mexican kind, nor the dry charcuterie style. The Spanish Table in Berkeley sells an assortment of brands; we used the locally made Neto's.
Weeknight Paella
- makes 6 to 8 servings
1 tablespoon vegetable oil
1 pound Spanish chorizo, cut into 1/2 inch slices on the diagonal
1 small onion, chopped
1 red bell pepper, chopped or 1/2 cup bottled red-pepper strips
2 cloves garlic, chopped
1/2 teaspoon pimentón, or to taste
2 cups short-grain rice
1 pinch saffron threads
2 bay leaves
4 cups chicken stock
8oz roast chicken, skinned, deboned, and torn into chunks
1/2 cup peas or shelled fava beans
Salt and freshly ground black pepper, to taste
Heat oven to 400°F.
Heat oil in a very large skillet (ours is 14″) or paella pan over high heat. Add chorizo and cook until browned and fragrant. Drain off most of the chorizo fat, leaving just enough to saute the vegetables. Add onion, red bell pepper, and garlic. Cook, stirring occasionally, until vegetables are tender, about 3 minutes.
Add rice, pimentón, saffron, and bay leaves. Stir to combine and coat the rice, about 1 minute. Add chicken stock and bring to a boil. Add chicken, peas (or favas); stir to combine.
Transfer skillet to oven. Cook uncovered until rice is tender and no liquid remains, about 20 minutes. Remove from the oven. Fluff with a fork and serve immediately.