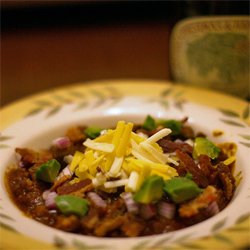 Between finishing up our Christmas shopping, getting our prize basket ready for Menu for Hope V, dealing with a rather scary veterinary emergency, and nailing down a few last details for our upcoming vacation, things have been a little chaotic around here. This morning as I sat down to write, I looked up in panic and realized that I had only photographed a single meal this week.
Luckily, it was our favorite chili, which — even though we eat it pretty much all the time — I've never blogged about. We love it because, unlike other chili recipes that we've been known to make, this one's highly adaptable. Like our bolognese sauce and sloppy joes, it's another one of the recipes that we make in giant batches and freeze for weeknight dinners. If we're using it to make chilidogs — which we often do — we'll leave the beans out and simmer it down until it's all meaty and thick. If we're eating it on its own, we'll add some Rancho Gordo beans, and thin it down a little with a few cubes of frozen chicken stock.
We almost always garnish it with cheese, sour cream, and chopped onions, but if you happen to be lucky enough to have a strip of crispy bacon or a late-season avocado lurking in your fridge, either one makes a tasty and pretty addition. But this chili's equally delicious when served all on its own, preferably with a pan of homemade cornbread and sweet butter. (We just discovered that Giustos, the local outfit that makes the all-purpose flour we buy, also sells locally milled cornmeal and polenta, which increases our Dark Days meal options significantly.)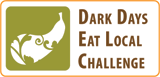 Adaptable Chili
- loosely inspired by 'Venison Chile with Red Beans'
from Staff Meals at Chanterelle
3 pounds stew meat, cut into 1/2-in inch cubes
(or substitute coarse-ground beef)
1 medium onion, diced
2 large cloves garlic, minces
1 tsp ground ancho chile
1 tsp ground pasilla chile
1 tsp Rancho Gordo ground red chile
1 tsp ground cumin
1 tsp ground cinnamon
1 tsp cayenne pepper
1/2 tsp black pepper
1/2 tsp dried thyme
1/2 tsp dried oregano
1/2 tsp cocoa powder
2 bay leaves
4 cups chicken stock or unsalted broth
1/2 cup tomato puree
2 cups cooked heirloom beans, drained (see note)
shredded cheese, sour cream, chopped onion, bacon, and/or diced avocado, for garnish
Pour vegetable oil to a depth of 1/8 inch into a large heavy Dutch oven set over medium-high heat. When the oil just begins to smoke, add only enough meat to cover the bottom of the pan without crowding. Brown well on all sides, turning with tongs. As the pieces brown, transfer to a bowl and continue with more meat in batches.
When meat is all browned, reduce heat to medium-low. Drain the accumulated oil from the bowl back into the pan; add the onion and garlic, and sweat until transluscent. Return the browned meat to the pan, then add the chile powders and spices. Stir well to coat the mat, then add the stock, tomato, and salt to taste. Bring to a boil, then reduce heat to low and simmer, uncovered, until the meat is tender — 2 to 2-1/2 hours — stirring occasionally. Stir in the beans, if using, and cook until heated through, about 5 minutes. Taste and adjust seasonings.
Note: If freezing for later use, the chili takes up less space without the beans, which you can always add the night you plan to serve it.