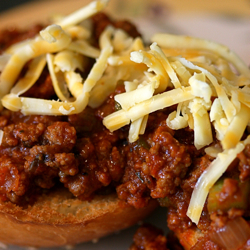 One day last week, the temperature hit a high of 87° — the kind of heat-wave that sends San Franciscans screaming from our un-air-conditioned homes straight to the nearest mall or cinema. Just two days later, the overnight low was 49°; close the windows, crank up the furnace.
Combine the wacky weather with the unsettling haze from dozens of wildfires, and you've got a recipe for doldrums. We cooked at home 4 nights last week, but it felt like work every time. The meal we'd planned as our One Local Summer supper — glazed lamb spareribs — turned out odd and ugly, completely unworthy of photographs, much less a post.
Luckily, we had an ace in the hole planned for mid-week. Our meat CSA has given us a surplus of ground beef. Throw it in a skillet with a hunk of Fatted Calf chorizo, a couple of the season's first peppers from Happy Quail, a jar of homemade tomato sauce, and some local onions and garlic: Voilá, instant Sloppy Joes. Paired with a side of bacon-lashed coleslaw, we had ourselves a perfectly fabulous — and 100%-local — quick summer meal. Not glamorous, but definitely delicious.
San Francisco Sloppy Joes
1 pound Mexican-style chorizo
1 pound lean ground beef
1 onion, diced
3 cloves garlic, minced
2 whole Anaheim chiles, fresh or canned (or other mild green chiles)
2 cups tomato sauce
1 T ground red chile, or more to taste
salt and pepper
hamburger buns
shredded cheddar cheese and diced raw onion for garnish, if desired

If using fresh chiles, roast over an open flame or under the broiler, turning to cook all sides until black and blistered. Place charred chiles in a paper bag and roll the top tightly to steam; set aside. If using canned chiles, drain and rinse two large whole chiles and set aside.
Saute the chorizo in a large skillet over medium heat until browned. Remove the meat from the pan to a large bowl with a slotted spoon, leaving the rendered fat in the skillet. Saute the beef in the chorizo fat, breaking up large chunks. When mostly cooked, add the onion and garlic and cook a minute or two until translucent. Return the beef to the pan, and add the tomato sauce and red chile. Reduce heat to medium-low and simmer.
If using fresh chiles, peel the charred skins off the steamed chiles; do not rinse. Cut the chiles (canned or roasted) into 1/2-inch pieces, and stir into the simmering meat mixture. Cook, stirring occasionally, until sauce is reduced to a spoonable thickness.
Serve over toasted hamburger buns, garnished with shredded cheese and/or raw onions.