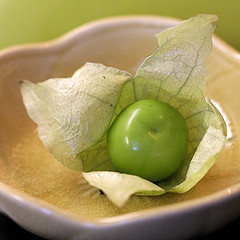 (links updated 1/2010)
I made a huge batch of posole verde yesterday, with Rancho Gordo hominy, and pig parts from Prather Ranch. I am drooling as I think of eating the leftovers for lunch.
The recipe was from the Williams-Sonoma Mexican book, which I still have checked out from the library, with some reality-checking of quantities from Rick Bayless. Tausend calls for 3 pounds of posole for a single batch, which would have been an amazingly awful mistake. I also used Bayless's larger ratios of meat (2 pounds) and bones (3+ pounds, and substituting water for the chicken stock accordingly) and his suggestion of adding a pig foot for broth texture. I did use the W-S recipe's sauce components, although I don't think I'd bother with the pumpkin seeds again — a lot of effort and expense for very little payoff.
Dessert was a nearly flourless chocolate-almond cake frosted with with ancho whipped cream — from the same cookbook — which I liked very much.