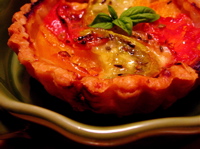 Tami of Running with Tweezers is the hostess of this month's installment of Hay Hay! It's Donna Day, a very cool meme dedicated to Down Under food-magazine diva Donna Hay. The whole thing was started by another antipodean, Barbara at Winos and Foodies. The blogger who creates the best entry for each month gets to pick the following month's theme. And — happily for those of us who love the oven — Tami chose savory tarts for Donna Day #5.
Given how much we've been enjoying caprese salads and other variations on the tomato/cheese/herb axis this summer — and knowing that the end certainly must be right around the corner for both heirloom tomatoes and the basil on the back porch — it seems only fitting to honor Donna Hay's "turn simple into special" tagline with a rustic tart based on all the flavors of late summer. Coming late to the party as always, I turned to store-bought — but 100% butter — puff pastry for my base, a truc that I know Ms. Hay would approve.
Caprese Tart
1/2 package (or 1/2 recipe, if you're feeling more Martha than Donna) puff pastry
4 smallish heirloom tomatoes, preferably various colors
3oz. Crescenza or other soft-ripened cheese
rosemary salt, or coarse salt + herb of your choice
basil, preferably small leaves, for garnish
basil-infused oil, or good olive oil, for brushing
Preheat the oven to 400F. Briefly thaw the pastry as directed on the package, and cut to fit your tart pan(s) — I used four small 4-inch rounds — and press the dough into the pans. Alternately, go freeform and cut pastry into four rectangles. Dock the crust with a fork or a toothpick. (If you're not using pans, leave the last 1/2 inch undocked, all the way around). Spread the cheese thinly over the docked portion of the crust.
Slice the tomatoes into shapes that make sense for your crust (about 1/4-inch thick, regardless), salt lightly, and set aside for a few minutes. Blot the tomatoes' excess moisture, and layer the slices in alternating patterns over the cheese.
Sprinkle the tarts lightly with rosemary salt. Bake for 10 minutes at 400, then reduce heat to 350 and continue cooking until pastry is puffed and throughly golden brown — mine took almost 30 minutes more. Brush with the oil, then garnish with small basil leaves (or chiffonade, if your basil is large). Serve with a salad as a light main course, or as a side dish for grilled meats.