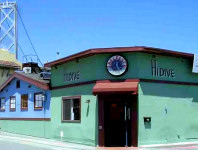 San Francisco is my adopted home, and I have sworn that the day that Barry Bonds leaves the Giants is the day that I'll buy a cap and cheer for Los Gigantes. But my sports roots are still on the East Coast, with the New England Patriots and Boston Red Sox.
As a transplanted fan, I'm always on the hunt for places to watch my teams. I haven't truly embraced the Connecticut Yankee yet, mostly because it's so far away from both my office and my house. With the Pats coming up against the Vikings on Monday Night Football, I thought I'd give the Hi Dive a try.
The first thing to get straight is that while the Hi Dive used to actually be a dive, it is a dive no longer. That section of the Embarcadero used to be a bit sketchy, but as soon as the Giants baseball park was built the late 1990s, SOMA started turning into condo-land. Now the Hi Dive is clean and comfortable.
It seems like a fine place to catch a drink after work, but I can't recommend the food as anything but a sponge for alcohol. The fried calamari was strangely soft, and the burger could have been from a cafeteria steam table, even though they advertised Niman Ranch beef. Top it off with a completely uninspired draft beer selection–come on, five taps and two of them are Coors Light and Stella Artois?
I can't recommend it as a sports viewing venue, either. There's a large flat-panel television at one end of the room. But only two tables and one end of the bar have a truly unobstructed view.
The staff, however, was very friendly. And the Pats administered a beat-down of the Purple People Eaters. Bring on the Colts.
Hi Dive
Pier 28-1/2
(Embarcadero at Bryant)
San Francisco, CA 94105
415.977.0170