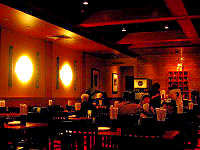 Dad had a craving for Chinese food last night, so on our way back from visiting friends, Mom and I stopped by the local outpost of Pei Wei, a quick-service spinoff of the P.F. Chang's megachain.
We slid into one of the parking spaces Pei Wei reserves right by the side door for folks who want to run in and get their grub. Once inside, we perused the menu and settled on three hard-to-fumble options: a Thai-style green chicken curry, orange-peel beef, and Pei Wei spicy chicken — their approximation of General Tso's — plus a side of edamame. Each entree came with a choice of white or brown rice.
As we waited for our food, I remarked that the decor seemed unexpectedly pleasant, maybe even nice enough for a casual date. Whether you eat in or take out, you order at the counter, pay for your food and drinks up front, and bring a number-tag to your table. It's the kind of place you can imagine popping into while shopping, a little more upscale than the food court, but not a 'for-real' restaurant.
After a short wait, the food came out, all boxed up in plastic clamshell containers that kept the food nice and hot during the quick drive home. We popped everything open, and — since we were planning to eat family style — were a little taken aback to find all the rice in the same containers as the entrees. Easily enough solved by putting scoops of rice on plates, I suppose, but not very conducive to sharing.
The edamame were served warmish, and tasted just like they do everywhere else. The Pei Wei chicken turned out to be everyone's favorite, although I definitely wouldn't call it spicy (even though the menu does). Mom and I enjoyed the green curry's flavor, although the chicken turned out more like meat-jelly, probably the result of over-marinating. The beef was the disappointment of the bunch, a sitcky-sweet mess of strangely chewy meat garnished with with huge slices of carrot… huh? The accompanying white rice was fine, but the brown rice was seriously undercooked: It rattled like gravel when stirred.
I've only been to P.F. Chang's once, with a big group of co-workers, and I remember thinking that the food there was fine, in a suburban-mall sort of way… like an Asian version of Chevy's (before Chevy's went downhill). But even though Pei Wei nails the sexy interior design and appealing assortment of pan-Asian entrees you'd want in this sort of place, the execution — at least at the local branch we tried — leaves a lot to be desired. For my money, I think I'll keep waiting for Big Bowl to move west.
Pei Wei Asian Diner
10575 S. Eastern Avenue
Henderson, NV 89052
702.837.0861